Electroacoustic Music and Sound Art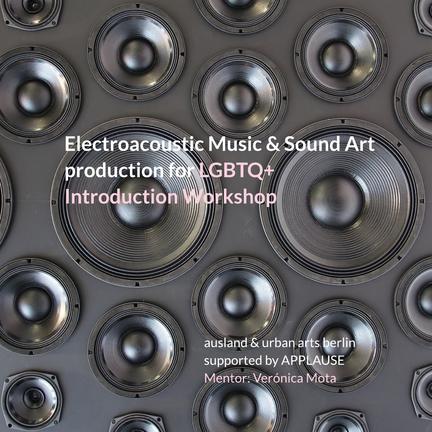 Electroacoustic Music & Sound Art
Production for LGBTQ+
Introduction Workshop
Hosted by Urban Arts Berlin and AUSLAND awarded and supported by APPLAUS.
November the 21st & 22nd
Two-Day Workshop
From 13:00 to 16:00
Costs: FREE
Due to COVID-19 this workshop has been moved to take place in an online format.
more information coming soon!
*INFORMATION*
Level: Beginner / Medium
Software needed: Ableton Live / can be the free trial version
Also Headphones + Laptop
In this workshop participants will learn how to produce their own sound works, using their own recordings (recorded in the workshop), and further processing. The mentor will focus on Musique Concrète techniques mixed with electronic sound production. This electro-acoustic workshop uses Delia Derbyshire and John Cage's works as intellectual and sonic reference points.
We will learn how to record professional audio samplers, the world of field recordings and audio formats including also the more accessible ways to record on your own sound using your cellphone. After this comes an introduction to Musique Concrète techniques and sound art production, and the first view of Ableton Live software.
--break--
In the second part we will explore Ableton Live in more detail. Audio Effects, Instruments, Recording, Audio-Editing and audio mixdowns.
At the end all participants will create a 10 minute sound art composition by themselves using all the elements learned in this workshop including self made audio and field recordings as well as audio software and sound art creative techniques.
Each participant will get a certificate of participation which can be included in their CV.
*****
THE MENTOR
Verónica Mota - Berlin/Mexico City
Professional sound artist currently working in Berlin. Her works encompass analogue and digital synthesis, field recordings and Musique Concrète techniques, often displaying her proficiency at playing a variety of instruments. She has produced a large body of soundtrack work for Radio, film and performance, and, with Cubop & Espectra Negra, as a solo artist in her own right.
Verónica Mota is also the founder and curator behind Urban Arts Berlin, an arts organisation based in Berlin, Germany. She works at bringing together excellent talents from all over the world. Her experience and hard work have found a fantastic global resonance in the field of sonic art and electroacoustic practice. She has become one of the most important curators supporting international composers and musicians in Berlin. She also presents and promotes the work of sound artists she has released under the Urban Arts Berlin label. Particularly relevant her excellent project Synthesis with two Volumes and a total of 75 sound works by professional composers -with a strong female identified presence- from all over the world. She produced also Urban Arts Berlin Radio streamed in three platforms including Radio Resonance Extra in the United Kingdom, The Pi Radio Verbund Network and Urban Arts Berlin in Germany.
Currently, she work as part of the AHACk: Sarah Connor Has a Dream zine collective which publishes her written text on technology, transhumanism, cyberpunk, feminism & Capitalist Realism.
http://veromisscubop.wixsite.com/veronicamota
*****
to register for the workshop please send an email to:
urbanartsberlinworkshops@gmail.com