Empfang Radio-Klangkunst Marathon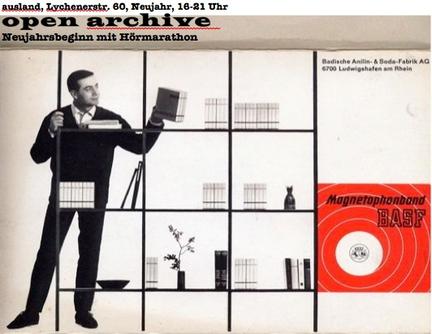 [de] Wir bringen einen Marathon mit Radio-Klangkunst zu Gehör, die ihr so leicht nicht wieder zu hören bekommt. Für unsere Auswahl melden Amazon und Ubuweb "keine Ergebnisse", es gibt nur Restauflagen, oder die Stücke sind nie auf Tonträger erschienen, sondern fristen ihr Dasein auf Tonband im Rundfunkarchiv. Dabei haben viele dieser Stücke für Improvisationsmusik und Klangkomposition Maßstäbe gesetzt. Jetzt habt ihr Gelegenheit, die alten Hits noch einmal zu hören und mit diesen akustischen Leckerbissen das neue Jahr zu beginnen.
Wir freuen uns auf Eure Ohren.... Antje Vowinckel und Marie-Luise Goerke
(Radio-und Klangkünstler/innen: wir werden einen CD-Tisch mit Neuerscheinungen aufstellen, bitte bringt Eure eigenen Werke mit...)
[en] German radio is full of treasures! Some of them are not longer (or have never been) available on cd or online. On January 1st , 16-21 h you have a chance to hear some milestones for improvised music and sound art. We will give short introductions and there will be pauses between the pieces. Early birds can sit on sofas.... Admission 4 Euro, coffee and cake included .
For Hörspiel, ein Aufnahmezustand, Radiosonate and Narayanas Kühe understandig of German is recommended. If you are a sound artist or radio artist please bring your own works . We will have a table for new cd releases..
Looking forward to seeing your ears... Antje Vowinckel and Marie-Luise Goerke
Programm (mit Moderation und Pausen)
Mauricio Kagel, Hörspiel, ein Aufnahmezustand, 1970, 35'
Barry Bermange, Radioville, Metropolis London, 1987, 56'
Caroline Wilkins, Mecanica Natura, 2000,31'
Mauricio Kagel: Nah und fern, 1994, 41'
Dieter Roth, Radiosonate, 1976, 43'
Tom Johnson, Narayanas Kühe, 1989/99, 14'
Barry Bermange, Mirage Kino, 1998, 33'
Eintritt: 4 Euro
Kaffee und Kuchen gratis