Erato Tzavara
Submitted by
Mathias
on Mon, 2019-09-30 10:33.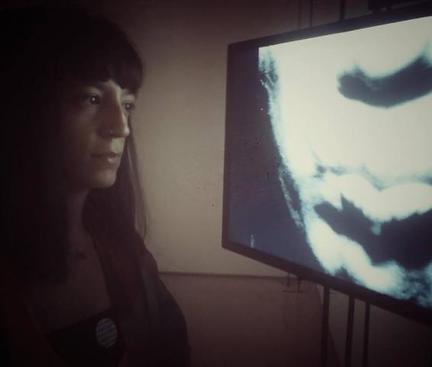 Erato Tzavara is a VIDEO ARTIST specialized in MOVING IMAGE TECHNIQUES for LIVE PERFORMANCE and DIGITAL SCENOGRAPHY. Through collaborations in dance, theatre and music improvisation she works with the plasticity of the DIGITAL IMAGE IN physical SPACE and mixes ANALOGUE aesthetic and DIGITAL COMPOSITING TOOLS to create moving collages from different sources of video (live feed, pre-recorded, archival, graphics). In her personal work she draws on photography, video essays and writing to capture the experience of the contemporary urban subject.
She has presented work in theatres, off-scene artistic spaces, music venues and festivals in Germany, UK, Canada, India, Greece, France.
She is currently an urban nomad, living and working between Athens and London.
Selected collaborations:
Borderland (Residence Schloss Broellin, DE, 2019) / AMID Multimedia Dance Performance (Athens, GR, 2019) / Microsoft Words for Dummies and Enlightened Beings experimental postdigital AV performance (Iklektik, London, UK, 2018) / Apothemata:Inventory (Tzeni Argyriou&Vassilis Gerodimos, Eleusis Cultural Capital 2021, GR, 2018) / The Incredible Voyage cinematic kids performance (SGT, Athens, GR, 2017-2018) / Heimatfront dance performance (MS Shrichtmaccher, Berlin, DE, 2017-2018) / 2121 site specific dance installation (MS Schrittmaccher, Saarbruecken, DE, 2017-2018) / Horizon dance installation (Kate Nankervis, Toronto, CA, 2016) Scratch Bam! AV kids performance (GNOUS for SGT, Athens, GR, Lille, FR, 2014-2015)