Fiction Canteen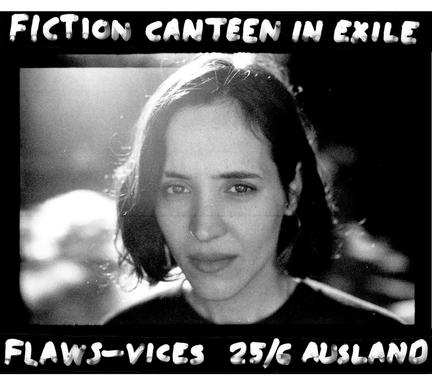 ENGLISH:
(Deutsch, siehe unten:)
auslandSPRACHEN is proud to announce that it is hosting the next Fiction Canteen event in its well-known location for poetry and literary readings on Sunday 25 June at 19:00.
The Fiction Canteen was set up around two years ago as a space in which unpublished authors can "test-drive" their creative writing in front of a supportive audience. We publish our themes in advance on Facebook and via newsletter (please subscribe to our newsletter at http://tinyletter.com/Fiction_Canteen) and we look for up to 4 outstanding but unpublished pieces per event which the author reads and the audience discusses constructively. Moderators Lucy Jones and Anton Lang guide you through the evening.
The Fiction Canteen stands for a space to risk the new: to share ideas, be inspired by others' work, overcome writer's block, and network with other writers and literary translators. The readings are in English but of course, anyone is welcome. In fact, this is an event where the audience plays just as crucial a part as the writers.
Reality is not black and white. It is full of grey tones. But how do these shades intersect, and how do they differ? Flaws–vices is our next Fiction Canteen theme.
We are looking for up to 4 outstanding texts to be read, and an enthusiastic audience willing to give their ideas. As usual, if in doubt, submit rather than not!
Please send texts by Thursday 22 June to fictioncanteen@gmail.com
DEUTSCH:
Am Sonntag, dem 25. Juni findet um 19:00 Uhr im Rahmen der Veranstaltungsreihe AuslandSPRACHEN die englisch-deutsche Autorenwerkstatt Fiction Canteen statt.
Die Fiction Canteen wurde vor zwei Jahren gegründet und dient als Präsentationsplattform für unveröffentlichte Autoren, die ihre literarischen Werke einem interessierten Publikum in Lesung und gegenseitigem Meinungsaustausch vorstellen. Die Themen der Veranstaltungen werden im Vorfeld auf Facebook und per Newsletter annonciert (abonnieren Sie unseren Newsletter unter http://tinyletter.com/Fiction_Canteen). Es werden bis zu 4 herausragende, aber unveröffentlichte Texte pro Veranstaltung ausgesucht, die von den Autor*innen vorgestellt werden und über die anschließend mit dem anwesenden Publikum konstruktiv diskutiert wird.
Moderatoren Lucy Jones und Anton Lang führen Sie durch den Abend.
Die Fiction Canteet bietet die Möglichkeit Neues zu riskieren: Ideen zu teilen, sich von anderen Arbeiten inspirieren zu lassen und Schreibhemmungen zu überwinden, aber auch mit anderen Schriftsteller*innen und literarischen Übersetzer*innen in Kontakt zu treten. Die Lesungen finden auf Englisch statt, sollen aber gleichzeitig für ein deutschsprachiges Publikum zugänglich gemacht werden.
Die Gespräche und Diskussionen werden deutsch-englisch simultan verdolmetscht.
In der Tat sind bei der Fiction Canteen die Publikumsbeiträge (fast) genauso wichtig wie die der Schriftsteller.
Die Realität ist nicht schwarz und weiß. Es ist voll von grauen Tönen. Aber überlagern sich diese Schatten und unterscheiden sie sich überhaupt?
"Flaws-vices" ist das Thema der nächsten Fiction Canteen.
Wir suchen bis zu 4 herausragende Beiträge, die einem Publikum vorgestellt werden, das bereit ist, seine Ideen mit den Autor*innen zu teilen.
Wie immer, im Zweifel, lieber Texte einreichen und sich nicht zurückhalten!
Bitte senden Sie Texte bis Donnerstag, 22. Juni, an fictioncanteen@gmail.com