Filled with Happy Drones at ACUD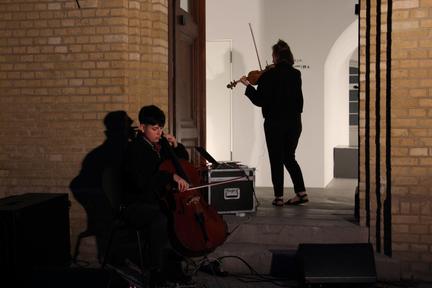 Marta Forsberg and Stellan Veloce
-------
ACUD backyard performance
for the outdoor events at ACUD there is limited capacity of 20 people, so we please ask that you reserve & purchase your tickets in advance. you can do so at the following email address:
filledwithhappydrones@gmail.com
doors will be at 19h / the concert begins at 20h.
the event is outside in the courtyard and can safely fit up to 20 audience members with the encouraged 1.5M distance regulations. outside, the concert will be held without mandatory masks. should the weather change things, we will move upstairs to the inside space and require that everyone wears masks and keeps seated during the concert.
-------
-english-
Marta Forsberg and Stellan Veloce are both composers and string players, Filled with Happy Drones is their first collaborative composition. The piece includes amplified and processed cello and violin, a sampler and synthesizer. Lights are also integrated in the composition.
Like thoughts and memories come and go - in an unpredictable and ever changing manner – this piece follows the same logic, exploring a musical form that is constantly interrupting itself. It's a way of revisiting music and sounds that exist in different consciousness's layers: the duo's Sardinian and Swedish folk music memories, strings repertoire, the song on the radio this morning, all traveling through different kinds of processing and reverberations - natural and artificial - creating a stream of sketchy, nostalgic and humorous musical environments.
-------about the artists-------
Marta Forsberg is a composer, sound artist and musician working within the field of installation art and electronic music. Dedicated to creating an immersive environment, her work explores intimacy in music and performance through minimalist sound and light sculptures - a sonic visualization. In 2012 Marta founded Konstmusiksystrar together with composer Lo Kristenson. A women and trans separatistic organization working for equality in the Contemporary Music scene in Sweden. In 2016 she finished her Bachelor in Electroacoustic Music at the Royal College of Music in Stockholm.
-------
Stellan Veloce is a Sardinian composer, performer and cellist living and working in Berlin. They compose pieces for acoustic instrumental ensembles as well as working on installations or performance pieces. They are co-founder of the collective and online platform Y-E-S.org. Veloce works or has worked with collaborators from different disciplines like composer Neo Hülcker, dancer/choreographers Sheena McGrandles and Julian Weber, visual artist Kyle Bellucci Johanson among others. Occasionally they work as a touring band member or in the studio in the pop music sphere (Peaches, Dear Reader, Kenichi, Kat Frankie a.o.). After completing a degree in cello performance, Veloce studied composition at the Universität der Künste Berlin and at the California Institute of the Arts.
--------deutsch---------
Marta Forsberg und Stellan Veloce sind sowohl Komponist*innen als auch Streicher, "Filled with happy drones" ist ihre erste gemeinsame Komposition. Das Stück enthält verstärktes und bearbeitetes Cello und Violine, einen Sampler und Synthesizer. Auch die Beleuchtung ist in die Komposition integriert. So wie Gedanken und Erinnerungen kommen und gehen - in einer unvorhersehbaren und sich ständig verändernden Weise - folgt dieses Stück derselben Logik und erforscht eine musikalische Form, die sich ständig selbst unterbricht. Es ist eine Art und Weise, Musik und Klänge wieder aufzugreifen, die in verschiedenen Bewusstseinsschichten existieren: die Erinnerungen des Duos an sardische und schwedische Volksmusik, das Streicherrepertoire, das Lied im Radio heute Morgen, alles durchläuft verschiedene Arten der Elektronische Verarbeitung und des Nachhallens - natürlich und künstlich - und schafft einen Strom skizzenhafter, nostalgischer und humorvoller musikalischer Umgebungen.
-------über die KünstlerInnen-------
Marta Forsberg ist eine Komponistin, Klangkünstlerin und Musikerin, die im Bereich der Installationskunst und der elektronischen Musik arbeitet. Ihr Ziel ist es, eine immersive Umgebung zu schaffen. Ihre Arbeit untersucht die Intimität in Musik und Performance durch minimalistische Klang- und Lichtskulpturen - eine klangliche Visualisierung. Im Jahr 2012 gründete Marta zusammen mit dem Komponisten Lo Kristenson Konstmusiksystrar. Eine frauen- und trans-separatistische Organisation, die sich für die Gleichstellung in der zeitgenössischen Musikszene in Schweden einsetzt. Im Jahr 2016 schloss sie ihren Bachelor in elektroakustischer Musik an der Königlichen Musikhochschule in Stockholm ab.
-------
Stellan Veloce ist ein in Berlin lebender sardinischer Komponist, Performer und Cellist. Veloce komponiert Stücke für akustische Instrumentalensembles, schafft Installationen und Performance-Stucke. Er ist Mitbegründer des Kollektivs Y-E-S.org. Kollaborationen u.a. mit dem Komponisten* Neo Hulcker, den Tanzer*innen und Choreograph*innen Sheena McGrandles und Julian Weber, dem bildenden Kunstler Kyle Bellucci Johanson. Gelegentlich arbeitet Veloce als Band-Mitglied oder Studio-Musiker* im Popmusik-Bereich Peaches, Kenichi, Dear Reader, kat Frankie). Nach einem Abschluss in klassischem Cello studierte Veloce Komposition an der Universität der Künste Berlin und am California Institute of Arts.
-----
Filled with Happy Drones
27 August 2020 ///
Doors: 19h
Concert: 20h
Entrance Price: 8€
https://soundcloud.com/forsbergveloce
http://stellanveloce.de/
https://martaforsberg.com/
This event is founded by the Initiative Neue Musik Berlin