FITH/ AC MEADOWS/GIGOLO TEARS/ SAMANTHA BOHATSCH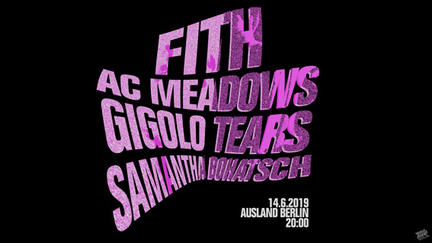 FITH
Previewtrack 'Forest': https://soundcloud.com/outerreaches2018/forest

AC MEADOWS
Bandcamp: https://acmeadows.bandcamp.com/releases
Siren: https://www.youtube.com/watch?v=5ueMrSygfbk
Mirrors: https://www.youtube.com/watch?v=e8lG3ghMxck

GIGOLO TEARS
https://www.facebook.com/gigolotears/ 

SAMANTHA BOHATSCH
http://samanthabohatsch.com

Doors 20:00, Concerts 21:00 | 8-10 EUR | @facebook
FITH
Previewtrack 'Forest': https://soundcloud.com/outerreaches2018/forest
Debüt-Album: https://wandaportal.bandcamp.com/album/fith
Initially a duo project formed in Berlin, FITH have since multiplied and spread out to become a Paris/Manchester/Berlin revolving group of musicians and poets, including Dice Miller, Enir Da, Rachel Margetts, Chris Lamouroux, Arnaud Mathe, Jana Sotzko, and Lianne Hall. A gesture towards the Literary Salon, expanded cinema happenings, and the ancient traditions of Greek Oratory and Religious Sermons, they are driven by the spell of the spoken word, minimal percussive refrains, washed out & oneiric textures & deep melodic synths, combining cinematic imagery, storytelling & spiritual frenzy.
FITH's self titled debut 12" album was released via their collectively run imprint Wanda Portal in November 2016.
"Quietly alluring debut LP of post punk-tempered avant-pop songs and cinematic mise-en-scene from Fith: a canny proposition revolving filmmaker/vocalist Dalia Neis a.k.a Dice Miller, plus Lori Goldston (Nirvana, Earth), Alex Paulick (Kreidler), and Enir Da. Crepuscular, oneiric, anachronistic, Fith unfolds a spellbinding narrative … " Boomkat
'Forest' is taken from FITH's upcoming second record, a Kafkaesque, Argento inspired work of yiddish ghost theatre & psychic swirl due for release on Outer Reaches in 2019. It was mostly written & recorded by the band in a caretaker's wing of an ancient castle in Normandy.
AC MEADOWS
Bandcamp: https://acmeadows.bandcamp.com/releases
Music Videos:
Siren: https://www.youtube.com/watch?v=5ueMrSygfbk
Mirrors: https://www.youtube.com/watch?v=e8lG3ghMxck
AC MEADOWS
AC Meadows is the Daydream project of Flautist and Singer, Angela Chambers aka Angel A. While it is essentially a solo project, her most recent EP 'Apart' features collaborations with artists such as Casper Clausen (Efterklang, Liima) and other special guests. The music of AC Meadows spans across a range of influences, taking in psych-dipped house and experimental indie, while skirting the edges of Krautrock. With a shadowy velvet ' Nicoesque' voice and hypnotic flute tones, she presents tear-jerking tracks combined with psych-dipped house fading into smoke-shrouded Krautrock experimentation as the listener is lead through a series of exotic surprises...

GIGOLO TEARS (de)
Die es schon wissen, wissen es schon: Christin E. Schalko aus Hamburg (ehem.: Zucker) ist jetzt grandios solo, GIGOLO TEARS heisst das, und Tränen fließen in Strömen. Ihre herausragende erste Single "Cry for Love" genügt schon zum Überquellen vor Glück. Man bekommt eine leichte Gänsehaut angesichts der zielgerichteten Coolness, dieses präzise gearbeiteten Kunstwerks mit störrischen Bässen und einer Hookline für die Popgeschichte.
https://www.facebook.com/gigolotears/

SAMANTHA BOHATSCH (de)
geboren in Berlin, geprägt in Wien, ist Samantha Bohatsch gelebter Text seit mehr als 15 Jahren. Die mehrfach ausgezeichnete Autorin liest gemischte Gefühle, Wörter und Orte aus ihrem Werk.
Samantha Bohatsch (born 1984, Berlin) lives and works in Berlin. She studied in Vienna with Prof. Heimo Zobernig, in Berlin with Prof. Else Gabriel and Michaela Meise and in Karlsruhe (D) with Prof. Silvia Bächli.
Bohatsch's work has been presented in solo and group exhibitions at institutions including Bob's Pogo Bar/ KW Institute for Contemporary Art Berlin; Forum Stadtpark, Graz (A); Kunstverein Reutlingen (D); o.T. Raum für Aktuelle Kunst, Lucerne (CH) and Kunsthalle Basel. She has been honored with artist fellowships by Goldrausch Künstlerinnenprojekt, the Federal State Baden-Württemberg (D) the Arts Foundation Baden-Württemberg (D), and the German Academic Scholarship Foundation.