Gehörte Stadt - Hearing Berlin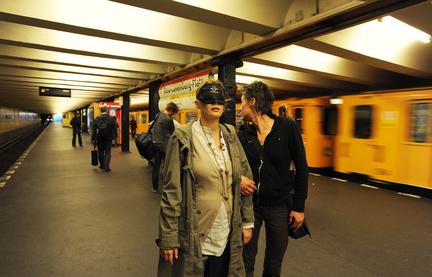 Mit den Ohren sehen. Schenken Sie Vertrauen, Neugierde und ca. 90 Minuten Zeit. Ein persönlicher Guide, der sich um Ihre Sicherheit kümmert, geleitet Sie blind durch die vielfältigen Klänge und akustischen Räume Berlins. So erleben Sie die Stadt mit den Ohren anstatt mit den Augen: schon oft, aber noch nie bewusst Gehörtes rückt ins Zentrum der Wahrnehmung. Wieso klingt plötzlich alles anders? War es nicht doch Musik? Zum Abschluss des Rundgangs laden wir Sie zu einem Gespräch über Ihre persönlichen Eindrücke ein.
Have you ever seen the city with your ears? You only need a little confidence, a portion of curiosity and about 90 minutes. A personal guide, responsible for your safety, will escort you through the manifold sounds and acoustic spaces of Berlin so that you can experience the city with your ears instead of your eyes. Noises and sounds, never heard consciously, suddenly creep into your field of perception. But why does everything sound so different? And is that music? At the end of the tour you are invited to talk to us about your own impressions.
7. Sept., 21. Sept., 5. Okt., 12. Okt., 19. Okt., 2. Nov., 2. Dez., 7. Dez. 2011 | jeweils 19.00 Uhr | always 7.00 p.m.
Tickets 5 €, Kinder frei
Telefon 030-24749870 | info@ohrenstrand.net
Information www.ohrenstrand.net | Voranmeldung erbeten | preregistration requested

Gehörte Stadt ist ein Projekt von KNM Berlin und ausland im Rahmen von ohrenstrand.guide / Ankunft: Neue Musik. ohrenstrand.net wird gefördert durch das Netzwerk Neue Musik, ein Förderprojekt der Kulturstiftung des Bundes, und die Kulturverwaltung des Landes Berlin. Die Projektreihe ohrenstrand.guide / Ankunft: Neue Musik wird zusätzlich kofinanziert aus Mitteln des Europäischen Fonds für regionale Entwicklung (EFRE).