Gibber /// Counter-Mapping and the Avant-Garde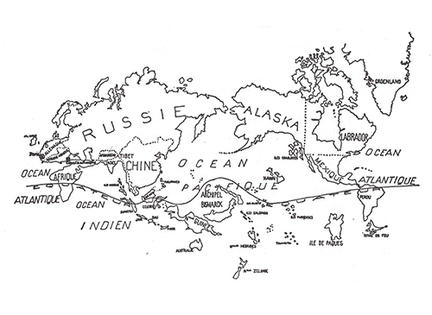 -An evening with two multimedia lectures-
Angela Rawlings: "GIBBER"
www.arawlings.is

Stephen Voyce: "COUNTER-MAPPING AND THE AVANT-GARDE"
www.stephenvoyce.org

Doors 20:00, start 20:30.
GIBBER by Angela Rawlings
As the 2012 Queensland Poet-in-Residence, angela developed Gibber—a transdisciplinary site-specific project that combines sound, visual, conceptual, and digital poetries with acoustic ecology and counter-mapping. Spawning from an ecopoethics praxis that applies the three environmental R's (reduce, reuse, recycle) to creative process, Gibber surveys interconnection between (ideas and realities of) land, bird, human, signified, signifier—all founded on a gentle interrogation of the language nurtured "here" (here being Queensland, Australia). Gibber includes field audio recordings and photo documentation of biotic and abiotic collaboration, synaesthetic museums of sound, and an archive of a multisource polyphonic exquisite corpse composed live via Twitter by 25 international poets. angela will lead a virtual walk-through of the project from a creation perspective, touching on the ecopoethical questions raised and the conceptual procedures that have informed the project's development.
COUNTER-MAPPING AND THE AVANT-GARDE by Stephen Voyce
The practice variously called diagram art, radical cartography, and counter-mapping refers to a diverse range of works that artfully subvert the typical coordinates and protocols of traditional map-making. Imagine, for example, attempts to chart "cities of memories," "imagined landscapes" and "conceptual countries." Consider an interactive digital map that instantly transposes the effectsof war in Baghdad onto San Francisco or one that fixes the location of every surveillance camera in Manhattan. Envision a room-sized global map made of junk computer parts or a map composed exclusively in braille. Stephen Voyce's presentation will briefly trace the history of contemporary counter-mapping practices to early 20th- and mid-century avant-garde collage, mixed-media, intermedia, and video art, before turning to the transformative role of digital media in contemporary map-making. He examines the ways in which counter-maps permit us to reevaluate notions of community, boundary, space, and memory.
***
Angela Rawlings is a writer and interdisciplinary artist specializing in acoustic ecology, vocal improvisation, and ecopoetics. She has collaborated with numerous international artists and organizations, including Maja Jantar, the Logos Foundation, and Valgeir Sigurðsson. rawlings' poetry publications include Wide slumber for lepidopterists (Coach House Books, 2006) and Gibber (a digital publication, 2012). Her libretti include Bodiless (for composer Gabrielle Herbst, 2014) and Longitude (for composer Davíð Brynjar Franzson, 2014). In 2013, her work Áfall / Trauma was shortlisted for the Leslie Scalapino Award for Innovative Women Playwrights. rawlings holds a BA in Creative Writing from York University, where she received the bpNichol Award for Distinction in Writing. She also holds an MS in Environmental Ethics and Natural Resource Management from the University of Iceland.
Stephen Voyce is Assistant Professor of English and a member of the Digital Studio for the Public Arts & Humanities at the University of Iowa. He is the author of Poetic Community: Avant-Garde Activism and Cold-War Culture(University of Toronto Press, 2013), the editor of a book of variations: love – zygal – art facts (Coach House Books, 2013) and the Director of the Fluxus Digital Collection. His work also appears in journals such asModernism/modernity, Criticism: A Quarterly Journal for Literature and the Arts,Postmodern Culture, and Open Letter. Voyce's primary teaching and research interests include poetry, art, and media studies. He is currently writing a book titled "Open Source Culture: Literature, Appropriation, and the Commons."