Guido Möbius//Rotaphon//Strobocop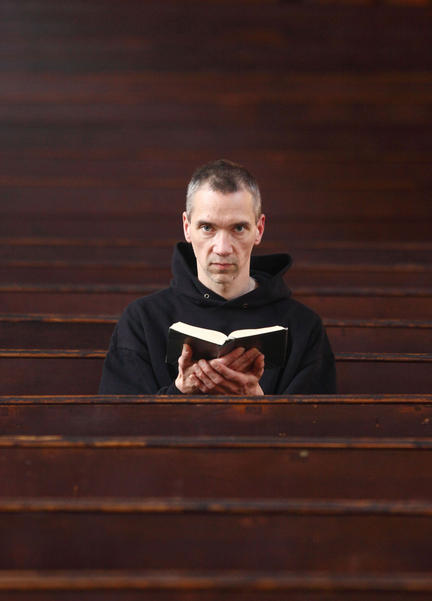 Though The Darkness Gather - Spirituals by Guido Möbius remixed - Berlin release party
Guido Möbius' fourth studio album "Spirituals" appeared in July 2012. "Spirituals" united subtle humor and dark premonition, transfiguration and kitsch. Six out of the nine pieces on this album use lyrics taken from traditional gospels. Without knowing the originals Möbius set the texts to new tunes and used them for his own ends. The subject of spirituality is approached from track to track in very differing ways. Whether through hypnotic rhythms, cathartic noise or the reassuring sound of an amateur choir. Thereby the agnostic Möbius is not trying to provoke or criticize religion. Much more he has accustomed himself to something that is deeply rooted in the collective consciousness. Spirituals and gospels can be powerful and energetic. Guido Möbius has brought this energy into a new context.
This playful style of creative conversion now finds its continuation: Möbius asked eight of his favorite contemporary musicians to make their own versions of his new Spirituals. The results could hardly be more varied or entertaining.
Although or perhaps because the remixes gathered together here are so different "Though The Darkness Gathers" is an acoustic discovery journey of an album wherein each piece is a fine surprise.
Guido Möbius
http://autopilotmusic.com
http://emphaserecords.com
Guido Möbius is a man on the go. He operates the Autopilot music publishing house and works as a PR person. Additionally he runs the small emphase label releasing a 7" series of one-instrument music. But first and foremost he is a musician, concentrating on his solo work and live appearances after playing in various band formations.
Following two albums of predominantly chamber music (Klisten, 2002, and Dishoek, 2005), Möbius first approached bass and bass drum driven music with "Gebirge" (2009). The Berlin based musician with roots in the Rheinland continues to use the instrumentation of modern dance music on "Spirituals" (2012), although stylistically he can't be pigeon-holed.
Listeners who have come in contact with the music of Guido Möbius solely through his album releases are in for surprise when they attend one of his gigs. This is mainly due to the fact that Möbius makes no attempt whatsoever to translate the album tracks into a live performance. On the contrary: With the help of nothing more than his guitar, his voice, a trumpet and a bunch of effect pedals, he creates highly energetic music in between humor and hypnosis. Another element that makes his performances so special is his spontaneous interaction with the audience - Möbius always invites chance to be his accomplice.
Rotaphon aka Boris Hegenbart
http://www.soundblocks.de
Boris Hegenbart was born in 1969 in Berlin and is a musician / composer of electroacoustic music and sound-art. He established the ongoing project [#/TAU], Berlin 1996. Sound installations, electroacoustic concerts and performances. Soundscapes for theatre plays, dance performances and experimental radio- and video-art. Workshops and lectures. Graduates from the Institute of Electroacoustic Music [ELAK], with an emphasis on composition, improvisation and live electronic, Vienna / Austria 2002.
In his electro-acoustic compositions, Hegenbart combines the aesthetics of 1950s Musique concrète with recent digital technologies of music production and sound synthesis.
Strobocop
https://myspace.com/djstrobocop
http://www.karaokekalk.de
Strobocop aka Thorsten Lütz has been among the most acclaimed DJs from Cologne's meandrous electronic music scene since years (to which he stays closely linked even after moving to Berlin).
This reputation he gained from the early Electrobunker events of the nineties, from his association with the De:Bug DJ crew and from touring europe extensively with DJs and live acts such as Thomas Brinkmann, Triple R, Michael Mayer and Air Liquide.
Thorsten Lütz founded the label Karaoke Kalk in 1997, which accommodates artists such as Wechsel Garland, Roman, Guido Möbius, März and Hausmeister. Beginning 2005 the Karaoke Kalk Sublabel "Kalk pets" was established, which is mainly focusing on Techno/House music.
Musically Strobocop's DJ-sets move - contrary to the releases on his label - between Minimal House and Techno, frequently supplemented by excursions into pop history.