HUMANIZATION 4TET
Submitted by
christina
on Wed, 2020-02-12 15:51.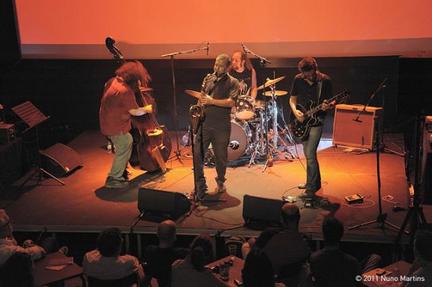 Luis Lopes – electric guitar
Rodrigo Amado – tenor sax
Aaron Gonzalez – doublebass
Stefan Gonzalez – drums
—
Humanization 4tet is a band formed by the Portuguese Luís Lopes and Rodrigo Amado with the Texan brothers Aaron and Stefan Gonzalez. Rooted in jazz, the band practices in a dynamic way a music that can run from the simplest melody to the most aggressive Noise, or from the most organic improvisation towards more targeted composition, never losing sight of its primary objective of conceptual construction and implementation of an identity.
This is reflected since their first "Humanization 4tet" debut album, edited by the Portuguese label Clean Feed, named best album of 2008 by Portuguese magazine Jazz.pt. Plus, the add of more two records: "Live in Madison" and "Electricity", both edited by the French label Ayler Records, all internationally acclaimed. The band presents now a new album, "Believe, Believe" resulting from their latest tour in U.S. and recorded in New Orleans.

In Portugal they played at Jazz em Agosto Fest – Gulbenkian Foudation, Seixal Jazz Fest, Além Tejo Fest Santo André, Festa do Jazz Português – São Luiz Lisbon, ZDB, Maus Hábitos, Ciclo Jazz às 5as – Centro Cultural de Belém, Hot Club de Portugal among other venues and concert halls. In the U.S. they have made three tours on the road, playing in places such as: Sandaga Marquet, Phoenix Project, RCB Mixtape Sessions (Dallas); Firehouse Gallery, Lola´s (Forth Worth); The Salvage Vanguard Theatre, Trailer Space Records, Me Mer Mo Series (Austin); Avant Garden, Project Row Houses, Spruce Goose (Houston), Mustard Zone (Denton); Desert Flower (Big Spring); Minicine (Shreveport); Spinster Records (Tulsa); Blue Nile, Chickie Wahwah, Zeitgeist, Snug Harbor, Side Bar, Always Lounge (New Orleans); Bobo Galery, (Asheville); Eyedrum Galery (Atlanta); Bossa (Washington); Fiume, Leroy's Lounge, Osvaldo Romberg Studio, Wherehouse (Philadelphia), Union Pool Brooklyn, Downtown Music Galery, The Stone (New York), Hideout (Chicago), Audio For the Arts (Madison). The photographer António Júlio Duarte, as been present in all the Humanization 4tet tours, documenting and creating a unique pictorial universe that results in exhibitions and book editions.