Humanizaton 4tet + Project VO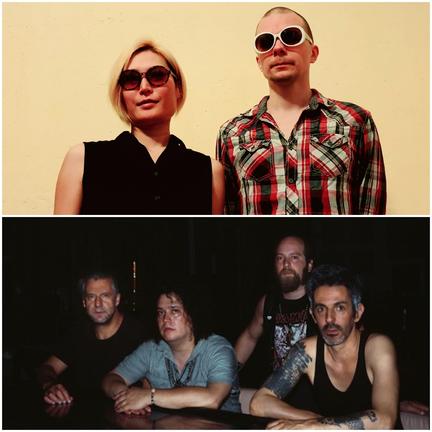 HUMANIZATION 4TET
Luis Lopes – E-Gitarre
Rodrigo Amado – Tenorsaxophon
Aaron Gonzalez – Kontrabass
Stefan Gonzalez – Schlagzeug

+++ English below +++
Humanization 4tet ist eine Band, die von den Portugiesen Luís Lopes und Rodrigo Amadomit den texanischen Brüdern Aaron und Stefan Gonzalez gegründet wurde. Verwurzelt im Jazz, praktiziert die Band auf dynamische Weise eine Musik, die von der einfachsten Melodie bis zum aggressivsten Noise oder von der organischsten Improvisation bis zur gezielteren Komposition reichen kann, wobei sie nie ihr primäres Ziel der konzeptuellen Konstruktion und Umsetzung einer Identität aus den Augen verliert. Dies zeigt sich seit ihrem Debütalbum "Humanization 4tet", das vom portugiesischen Label Clean Feed herausgegeben und von der portugiesischen Zeitschrift Jazz.pt. zum besten Album des Jahres 2008 gekürt wurde. Außerdem haben sie zwei weitere Platten veröffentlicht: "Live in Madison" und "Electricity", beide herausgegeben vom französischen Label Ayler Records, die beide international gefeiert wurden. Die Band präsentiert nun ein neues Album, "Believe, Believe", das aus ihrer letzten Tournee in den USA resultiert und in New Orleans aufgenommen wurde.

http://www.luislopes.pt/?page_id=762
Project VO
Antti Virtaranta – Kontrabass
Rieko Okuda – Klavier
Project VO ist ein improvisierendes Duo von Antti Virtaranta und Rieko Okuda, das seit 2010 besteht. Ihr Ansatz ist ebenso handgefertigt wie ihre limitierten Veröffentlichungen "glass hopper" (2012) und "プランクトン" (2015), die die Art und Weise widerspiegeln, wie sie sich in der freien Improvisationslandschaft bewegen. Das Charakteristikum ihrer Musik sind repetitive und gebrochene Rhythmen. Die Kombination von Klavier und Bass wurde um Bratsche und kleine Elektronik erweitert, was das Duo dazu veranlasst, mehr Farben und Texturen für ihre Auftritte zu erforschen.
Sie treten aktiv in ganz Europa und in Japan auf, einschließlich der Zusammenarbeit mit verschiedenen Interpreten. Kürzlich wurde Project VO eingeladen, einen einwöchigen Aufenthalt in Budapest zu absolvieren und mit einer großen Anzahl ungarischer Musiker zusammenzuarbeiten.

https://project-vo.tumblr.com/
Tickets: 9 €
Tickets im Online-Vorverkauf oder an der Abendkasse erhältlich.
Es gelten die allgemeinen Hygiene- und Corona-3G-Regeln.

Gefördert von der Senatsverwaltung für Kultur und Europa
Medienpartner: Digital in Berlin
Tür öffnet: 20:30 Uhr
Konzertbeginn: 21:00 Uhr
+++ English +++
HUMANIZATION 4TET
Luis Lopes – electric guitar
Rodrigo Amado – tenor sax
Aaron Gonzalez – doublebass
Stefan Gonzalez – drums
Humanization 4tet is a band formed by the Portuguese Luís Lopes and Rodrigo Amado with the Texan brothers Aaron and Stefan Gonzalez. Rooted in jazz, the band practices in a dynamic way a music that can run from the simplest melody to the most aggressive Noise, or from the most organic improvisation towards more targeted composition, never losing sight of its primary objective of conceptual construction and implementation of an identity. This is reflected since their first Humanization 4tet-debut album, edited by the Portuguese label Clean Feed, named best album of 2008 by Portuguese magazine Jazz.pt. Plus, the add of more two records: "Live in Madison" and "Electricity", both edited by the French label Ayler Records, all internationally acclaimed. The band presents now a new album, "Believe, Believe" resulting from their latest tour in U.S. and recorded in New Orleans.
http://www.luislopes.pt/?page_id=762

Project VO
Antti Virtaranta – double bass
Rieko Okuda – piano
Project VO is an improvising duo between Antti Virtaranta and Rieko Okuda working since 2010. Their approach is handcrafted like their limited releases "glass hopper" (2012) and "プランクトン" (2015), which reflect the way they navigate the free improvisation landscape. The characteristics of the music is repetitive and broken rhythms. The combination of piano and bass has expanded to include viola and small electronics, which further push the duo to explore more colors and textures for their performances.
They actively perform throughout Europe and in Japan including collaborations with different performers. More recently Project VO was invited to do a week-long residency in Budapest collaborating with a large number of Hungarian performers.
https://project-vo.tumblr.com/
Tickets: 9 €
Tickets available in online presale or at the box office.
For visiting the concerts, the usual hygiene and corona 3G rules are valid.

Supported by Senatsverwaltung für Kultur und Europa
Presented by Digital in Berlin
doors: 8.30 pm
concert starts: 9.00 pm