Iku Sakan // Solhorn // Günter Schickert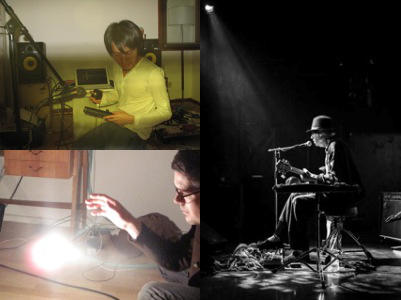 Doors 21:00h, Start 22:00h |
IKU SAKAN
Iku Sakan is a musician, improvisor and DJ from Osaka, Japan currently based in Berlin, Germany.
In his richly textured organic music, Iku searches for soulful moments from soulless materials through a constantly shifting collection of sound sources, melding improvisation and dj'ing practices. for his newly renovated electronic live set, Iku's mixing various waves from machines & uniquely modified gears like: omnichord, mc-303 & oscillator.
creating an detailed, organic textures with african-music-inspired polyrhythmic and harmonic flow.
He collaborated / played with e.g. Maher Shalal Has Baz, Frisk Frugt, Muneomi Senju (ex- Boredoms), Damo Suzuki, Günter Schickert, Rudi Moser (Einstürzende Neubauten), Sun Araw, Al Margolis (if, bwana), Astma and Michael Northam.
He has performed in Europe, Asia & Mexico. played at several festivals e.g. All Tomorrows Parties (UK, with Maher Shalal Hash Baz), Avantgard Festival (DE, with Meeting of the Spirits), Blurred Edges (DE) and Sally Can't Dance (CN).
He is currently working on 1st solo album. some demos and samples can be found here:
https://soundcloud.com/ikusakan
http://ms.stubnitz.com/content/iku-sakan-dejp/
SOLHORN
Solhorn is a solo project of danish artist Michael Mørkholt.
A Solhorn performance consists of a live demonstration of a manu- ally operated sculptural installation. Formally, it has the shape of a concert, but in a concrete formal experiment that expands the focus from sound, performer and instrumentalist towards space, spacial awareness, image and receiver.
Most recent works revolve around reduction and abstraction in the interaction between sound, light and shadow, bodily move- ment in space, technology and magic.
A recurring idea is to build a framework for an interdiciplinary synaesthetic whole with a direct link between sound and image.
His current set up for live performance is based on a homemade video feedback controlled audio synthesizer. outcome is warm & ethereal, dreamy visual experience, sonically accompanied by everlasting choir-like harmonics and rhythmic exploration.
Short biography:
Michael Mørkholt (1978)
· MA in Fine Arts, DJK, DK, 2005
· Works with composition in music, sound and visual art.
· Exhibitions/ performances at Art Metropole (CA), Café Oto (UK), Super Deluxe (JP) Kunsthal Charlottenborg (DK), LAM, Musée d'Art Contemporain, d'Art Moderne et d'Art Brut de Lille Métropole (F), Overgaden (DK), Tate/ Intermedia Art (UK), Rooseum (SE), Museet for Samtidskunst (DK), Tonic/ Bunker (US), Titanik (FI)
· Composed for and played with Solhorn, MX, Jab Mica Och El, Den Nørrejyske Øs Stororkester for Opløst Mønstermusik, Som- mersolhvervsorkesteret, Århus Politi-Orkester
· Toured Denmark, Sweden, Norway, Finland, Germany, Holland, Belgium, France, Italy, Poland, Turkey, England, USA, Canada, Japan and Egypt.
· Founder of Lille Kommune label.
http://vimeo.com/86548806
http://vimeo.com/86548803
https://soundcloud.com/lillekommune
GÜNTER SCHICKERT
Kosmische guitarist Günter Schickert speaks with Keith Moliné in The Wire 366: "For me, music is a living sound. Even to record it is like killing something... I never had an approach to music, my guitar is always trying to find something new every time we play a track. One guitar and delay, no looper or samples at all, but there are hundreds of possibilities."
"German guitarist Gunter Schickert was probably the only musician to rival Manuel Göttsching in guitar experiments during the 1970s. Coming from a free-jazz background, he embraced the 'space-echo guitar' and indulged in the brainy improvisations of Samtvogel (Brain, 1974) and Überfallig (Sky, 1979 – Bureau B, 2012)."
Digital in Berlin
Since Schickert's 1975 debut Samtvogel and 1979's Überfällig (on legendary German rock labels Brain and Sky repectively) he has only released work sporadically in limited editions, though he has remained active, producing music for film and theatre and working with a number of groups.