INCENSE OF MUSIC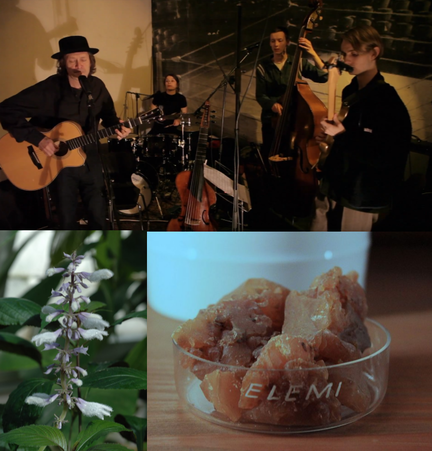 Doors 20:00 I Start 20:30 I Entrance: 9€/6€
Incense of Music, a series focussed on highest musical quality, continues its intimate and multi-sensory journey into the unknown presenting the music and the songs of Chris Dahlgren, supported by his band. Of course, in conjunction with smoked scent molecules from two selected plants: Elemi and White Sage. It will be an amazing evening.
Chris Dahlgren: vocals, guitar, viola da gamba, composition;
Evi Filippou: percussion, background vocals;
Arne Braun: electric guitar;
Sidney Werner: bass, background vocals
Fabio Dondero and Dominik Breider (Incense burning): Elemi and White Sage
Chris Dahlgren was born in New York, NY on Nov. 13, 1961. He began with music on the cello at the age of 6, and later switched to the bass. His earliest experiments with improvisation on the cello brought upon him the wrath of his elementary school music teacher who shouted, "Get out of here Dahlgren- you will never be a musician!" He received his BM in Jazz Studies from the Cincinnati Conservatory of Music (1986) and a MA in Composition/ Experimental Music from Wesleyan University (2003). Chris has studied composition with La Monte Young, Anthony Braxton, Alvin Lucier and Christian Wolff. He has studied bass with Barry Green, Francois Rabbath and Dave Holland, among others. During the mid-1980's, as the in-house bassist of the Blue Wisp Jazz Club in Cincinnati, Ohio, Chris had the opportunity to learn about jazz music directly from some of the greatest American masters, such as: Herb Ellis, Red Rodney, John von Ohlen, Art Lande, Charles Tolliver and Joe Lovano. In this time he also established himself as a composer and unique voice on the bass, co-founding the band Ekimi and the music label Krysdahlark making several recordings, thereupon. In 1993, Chris moved back to his native New York, and for eleven years was actively performing and recording with his own (Slow Commotion, Best Intentions) and other's bands on the Downtown scene. In this period he released many of his own recordings, as a composer and improviser, on the Koch Jazz, CIMP, Not Two, Between-the-Lines, Leo, ESP and other record labels, in addition to performing on numerous recordings by other artists. From 2001 to 2009 he was a regular member of ensembles of the seminal avant-garde composer and woodwinds player Anthony Braxton. Since 2004, he has been living in Berlin, Germany, performing, composing and collaborating with significant European musicians, composers and artists. In 2006 Chris began to play the viola da gamba, and is presently introducing this instrument into the field of improvised music. In 2008, he formed his new band: LEXICON, which had its debut recording come out on the Jazzwerkstatt label in March, 2010. Chris regularly tours around the world with his own, as well as other ensembles. Since 2003, Chris teaches and coaches ensembles in Berlin at the Musikhochschule Hanns Eisler and Jazz Institut Berlin. He has received numerous grants and awards in music composition from the National Endowment for the Arts, Ohio Arts Council and Headlands Arts Center (USA), as well as receiving commissions for his compositions from private individuals and organizations.
www.chrisdahlgren.com
Elemi
– Canarium is a genus of about 100 species of tropical and subtropical trees, in the family Burseraceae. They grow naturally across tropical Africa, south and southeast Asia, Indochina, Malesia, Australia and western Pacific Islands; including from southern Nigeria east to Madagascar, Mauritius, Sri Lanka and India; from Burma, Malaysia and Thailand through the Malay Peninsula and Vietnam to south China, Taiwan and the Philippines; through Borneo, Indonesia, Timor and New Guinea, through to the Solomon Islands, New Caledonia, Fiji, Samoa, Tonga and Palau. They grow up to large evergreen trees of 40–50 m (130–160 ft) tall, and have alternately arranged, pinnate leaves. Elemi resin is a pale yellow substance, of honey-like consistency. Aromatic elemi oil is steam distilled from the resin. It is a fragrant resin with a sharp pine and lemon-like scent. One of the resin components is called amyrin. Elemi resin is chiefly used commercially in varnishes and lacquers, and certain printing inks. It is used as a herbal medicine to treat bronchitis, catarrh, extreme coughing, mature skin, scars, stress, and wounds. The constituents include phellandrene, limonene, elemol, elemicin, terpineol, carvone, and terpinolene.
The name

Elemi

derives from an Arabic phrase meaning 'above and below', an abbreviation of 'As above, so below.'. This might tell us something about its sublime impact on our emotional and spiritual state.
Salvia apiana
(white sage, bee sage, or sacred sage) is an evergreen perennial shrub that is native to the southwestern United States and northwestern Mexico, found mainly in the coastal sage scrub habitat of Southern California and Baja California, on the western edges of the Mojave and Sonoran deserts. S. apiana is a shrub that reaches 1.3 to 1.5 metres tall and 1.3 metres wide. The whitish evergreen leaves have oils and resins that release a strong aroma when rubbed. The flowers are very attractive to bees, which is described by the specific epithet, apiana. Several 1 to 1.3 metres flower stalks, sometimes pinkish colored, grow above the foliage in the spring. Flowers are white to pale lavender. Names for white sage in local Native American languages include qaashil (Luiseño), shlhtaay or pilhtaay (Kumeyaay), kasiile (Tongva), we'wey (Chumash), qas'ily (Cahuilla), shaltai (Paipai), and lhtaay (Cochimí). White sage is a common plant that requires well-drained dry soil, full sun, and little water. The plant occurs on dry slopes in coastal sage scrub, chaparral, and yellow-pine forests of Southern California to Baja California at less than 1,500 metres elevation. S. apiana is widely used by Native American groups on the Pacific coast of the United States. The seed was a main ingredient of pinole, a staple food. The Cahuilla harvested large quantities of the seed that was mixed with wheat flour and sugar for gruel or biscuits. The leaves and stems were eaten by the Chumash and other tribes. Several tribes used the seed for removing foreign objects from the eye, similar to the way that Clary sage seeds were used in Europe. A tea from the roots was used by the Cahuilla women for healing and strength after childbirth. The leaves are also burnt by many native American tribes, with the smoke used in different purification rituals.