Ivette Löcker: "Nachtschichten" | Film + Gespräch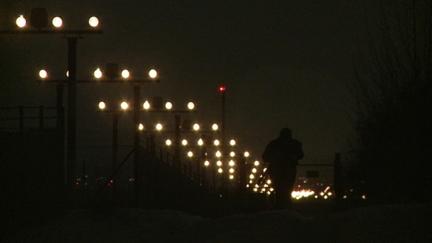 Filmvorführung:
"Nachtschichten"
von Ivette Löcker | A 2010, 97 min.
Im Anschluß: Gespräch mit der Regiesseurin.

Geöffnet ab 20:00 Uhr, Beginn 20:30 Uhr | 5 EUR
@facebook
Trailer "Nachtschichten": youtube.com
www.ivetteloecker.com
"Ivette Löcker ist ein entschleunigtes Großstadtporträt gelungen, ein dokumentarischer Film noir über gesellschaftliche wie individuelle Schattenseiten und Abgründe."
Der Standard
Ivette Löcker wurde in Bregenz geboren und studierte russische Sprachen. Neben der Mitarbeit an Filmprojekten anderer macht sie seit 2006 eigene Dokumentarfilme. "Marina und Sasha, Kohlenschiffer" über die Besatzung eines Kohlenschleppkahns auf dem Baikal-See war ihre erste dokumentarische Arbeit.
Mit "Nachtschichten" zeigt das ausland heute ihren zweiten Film von 2010. "Nachtschichten" behandelt das Leben von Menschen, die die Nacht zum Tag machen, und dadurch ein praktisch unsichtbares Leben führen. Für sie ist die Nacht ein Freiraum, ein Schutzmantel, unter dem sie, gewollt oder ungewollt, ihre große Freiheit finden.
Weitere Filme von Löcker sind "Vom (Über)leben der Sonya Wolf", "Wenn es blendet, öffne die Augen" und "Was uns bindet".
Born in Bregenz, Austria, Löcker studied russian. Besides working as an assistant on other people's projects she started to make her own documentary movies in 2006, with 'Marina and Sasha, Coal Shippers' being her first, about a couple working on a ship on the lake Baikal.
At ausland, we show her second movie today, "Nightshifts", from 2010. In it Löcker studies the lives of people, who happened to turn the night into their daytime, which means they lead a secret life. Voluntary or compulsary they use the dark as a free space, or cover, for their own freedom.
Oher films by Löcker are "Sonya Wolf, a Saviour's Life", "When It Blinds, Open Your Eyes" and "What ties us together".