James Deveraux "Noirish Project"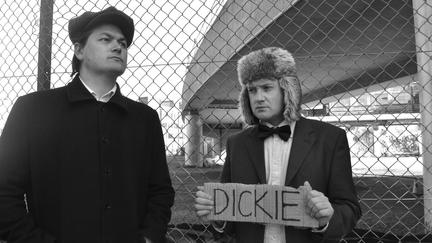 Outline:
"A Neorealism Masquerading As Film Noir"
Noirish Project is a melancholy and gently absurd feature film about Billy, who steals his family's precious pearls and hands them over to low-life Jimmy, who in turn takes them to a fence. But when the pearls turn out to be fake, Jimmy barely escapes from the fence with his life, let alone the pearls. Billy and Jimmy endevour to get the pearls back before Billy's family finds out they're gone, but when the fence goes missing, they realise their story has only just begun.
Shot in black and white, Noirish Project has an elliptical rhythm, truthful-poetic acting, and features losses of focus on the central narrative thrust, giving the film a flat, minimal quality".

Statement:
"Noirish Project is a gentle, poetic film. It rejects the bombast of so much contemporary cinema and doesn't seek to dominate the viewer. Noirish Project is basic, unflashy and pared back – in short, humble. This allows the moments of gentle poetry to rise to the surface, and consequently the viewer is free to observe and experience those moments if they so choose.
Noirish Project is innocent in that it is nostalgic for cinema's past, for a cinema which is lost to us, one which existed before the harsh, violent cinema we see today. It does not, however, specifically refer to any particular films, rather it contains the vague feeling created by films from the past, particularly British films from the 40s and 50s. Noirish Project then, is humble in it's aesthetics and innocent in it's nostalgia."