Jan Jelinek
Submitted by
Mathias
on Thu, 2018-11-15 00:36.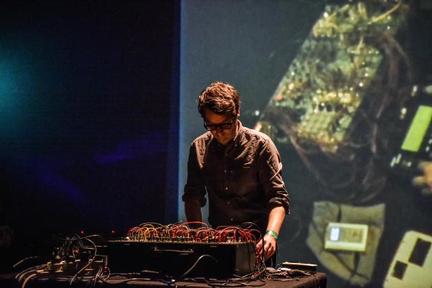 Jelinek's works deal with the transformation of sounds, translating source materials from popular music into abstract, reduced textures. Bypassing traditional musical instruments, he constructs collages using tiny sound fragments from a wide variety of recording devices: tape recorders, digital samplers, media players and the like. The recordings are processed into repetitive loops that boil the original down to its essentials, the source material becoming indecipherable in most cases.
He began releasing his work in 1998, initially under the pseudonyms Farben and Gramm. In 2000, his sound collages played in the Young Media Pavilion at the EXPO2000 worlds fair in Hanover. Over the following years, he worked with artists like Sarah Morris and the German writer Thomas Meinecke, collaborated with the Japanese improvisation ensemble Computer Soup and the Australian jazz trio Triosk, and created audio-visual performances with video artist Karl Kliem at venues including the Centre Pompidou in Paris. In 2007, with Andrew Pekler and Hanno Leichtmann, he founded the improvisation trio Groupshow that refuses any repertoire and any limitation on performance duration.
In 2008, Jelinek established the faitiche label as a platform for his own experiments, for joint projects, and for work by musician friends. The sixteen releases to date include a collaboration with the vibraphonist Masayoshi Fujita and the work of fictional sound researcher Ursula Bogner, whose scores, drawings and writings have been presented and performed around the world. Since 2012, Jelinek has been writing and producing experimental radio pieces for state broadcaster SWR that deal with fictional identities and soundscapes. The theme of fictional and multiple identities runs through the whole of the faitiche catalogue. Under the pseudonym Gesellschaft zur Emanzipation des Samples, as Ursula Bogner, or using his own name, Jelinek's oeuvre ranges from field recording collage to electroacoustic music to minimalistic drone. What these various works all have in common is live processing of previously collected sound material.
In his current live performances, Jan Jelinek weaves diverse sound materials into intense drone collages and soundscapes.