Jassem Hindi and Hana Lee Erdman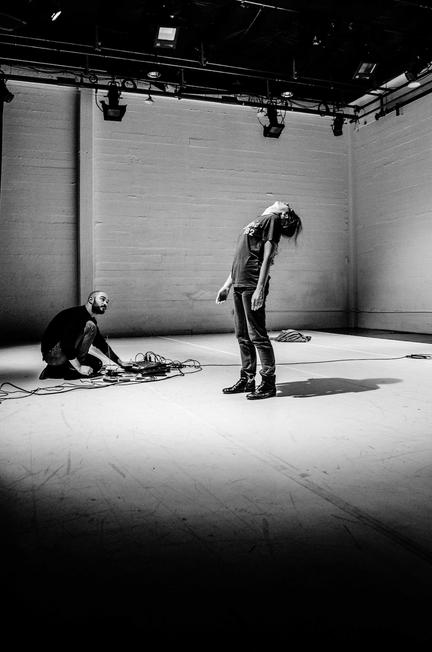 These Children Singing in Stones is a living poem inspired by a poem written by E.E. Cummings. The fragmented, uncontrolled activity of our imagination surges in the midst of a formal practice of body and sound as moments, points in a silent space. Suddenly something appears and overlaps to the shapes and sounds created: silences, body sculpture, vague images, sudden switches. An 'invisible' movement: you create discreet, discontinuous images, fragments of narration. Poems. These children singing in stone a silence of stone these little children wound with stone flowers opening forever these silently little children are petals their song is a flower of always their flowers of stone are silently singing.
These Children Singing in Stones is a project by Hana Lee Erdman and Jassem Hindi with broken objects, quilt, voice, wood, mixing board, body, leather shoes...
Hana Lee Erdman is a choreographer and performer based in Berlin. She makes dance and performance emphasizing the production of movement and subjectivity as it relates to choreography and the sculptural image. She works on a long-term project with San Francisco artists, instigated by Keith Hennessy, called Turbulence (a dance about the economy). Hana's own work has been shown internationally, most recently at Tanz Tage, Tanznacht and Ufer Studios in Berlin, as well as at Counterpulse and Kunst-Stoff in San Francisco. She has a music project with Jassem Hindi called Enemy in the Figure, and a performance project with Allison Lorenzin, called DIVINE LOVE ELECTRIC. She has worked previously with Shelton Mann (USA), Marysia Stokloska (Pl), Jess Curtiss (USA/De), Half/Machine (Dn), and Smith/Wymore productions(USA). Hana has a Masters in Solo/Dance/Authorship from the Hochschulübergreifenden Zentrum Tanz(HZT) (Center for Dance) in Berlin, where she was recently awarded support from the Frauenförderung (women's support) initiative at Universität der Künste Berlin (UdK) for her participation in Turbulence.
Jassem Hindi (*1981, Jeddah, Saudi Arabia) is a sound maker and a performer, active in the fields of experimental music, art installation and performance. http://hindij.blogspot.dk/
Music bio:
Plays with a lo-fi electro/acoustic set: diverted machines, broken objects, no input mixing board, contact microphones, magnetic tapes, springs.
Primarily focusing on the tension between a musical gesture and raw sound material, generated by nervousness and necessity; using experimental video editing techniques such as cut ups, exposure, and shadowing; reported to real time sound making. With a strong taste for fast cuts, rough dynamic changes and low frequency vibrations.
His most recent sound collaborators in the past year are Axel Dörner, Olivier di Placido, Basile Ferriot, Magda Mayas, Tony Buck, Hana Lee Erdman, Jakob Riis, Martin & Maria Küchen.
In the spirit of the improvised music scene he has played in in situ concerts with a wide range of musicians in and from various continents (Europe, USA, Middle East, North Africa, South America).
Musically very much inspired by the works of Jason Lescalleet, Pandit Pran Nath, Keith Rowe, Andrea Neuman, Graham Lambkin, Kevin Drumm, Annette Krebs, Sunn O., Olivier Di Placido, Basile Ferriot, Pascal Battus, Monarch, Alvin Lucier, Esmat Bagherpour Baboli, and various bel cantoopera constructions.
His performance work with Jeremy Wade, Keith Hennessy, Mia Habib and the likes is focused on a practice placed between poetics and politics (with objects such as queer tactics, hospitality, public displays of violence), using secular ritualistic strategies and conceptual tools based around the Cascando triad:
"of knowing, not knowing, pretending."
He is the recipient of several grants and production/residency programs: CCN of Belfort, Norwegian Arts Council, Nordic Arts Fund, the EMS center of Stockholm, Oslo Dance House, the Ystad Arts Museum, the Weimar Arts Museum, Du Store Verden, Tanzplan, Kampnagel and K3 Hamburg, La Gaîté Lyrique.
*These Children Singing in Stones ist enstanden im Rahmen des Masterstudiengangs Solo/Dance/Authorship am Hochschulübergreifenden Zentrum Tanz Berlin