Jokaklubi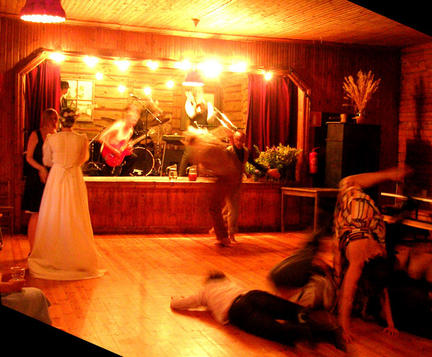 JOKAklubi präsentiert: experimentelle Musik und Performance aus Finnland. JOKAklubi hat eingeladen das unglaublich hinreizende underground personal von Helsinki!!!
Es performieren:
LÄSKI (FIN)
Teemu Tuonela (FIN)
Mimosa Pale (FIN)
SUCCUBUSSUCKS (FIN)
Lokaal Kann/Valkeapää (EST/FIN)
dr.luv & dj.Mir
Es moderiert: die herzenswärmende JOKAklubi crew! www.jokaklubi.blogspot.com
LÄSKI Lovable and horrifying läski-band (deutch = speck). Free form psychedelic throat-singing rock. Adorable! www.laski.fi
TEEMU TUONELA Teemu Tuonela sings his own songs and cover versions in english and in finnish, without accompaniment. " I saw an anorectic dwarf jogging. It didn´t look like fun." WUNDERBARE DINGE! http://www.youtube.com/watch?v=VQd5QLGauz4 http://www.youtube.com/watch?v=E4T1HXDORnc&feature=related
MIMOSA PALE Mimosa Pale studied art in Birmingham, Helsinki and Paris. Her artwork is a synthesis of sculpture and performance art. In her often interactive work humour, lust and celebration lead to carnivalesque staging. She likes to switch contexts being it museum, theatre, street or church. She acts in cabaret shows with her singing saw, creates haute-couture for everybody and makes fashion-shows in her Berlin flat. Mimosa Pale has visited various international performance art festivals and is currently opening a hat shop HIMO in Berlin. www.mimosapale.com
LOKAAL KANN/VALKEAPÄÄ The dancer Kaja Kann and the sound artist Juha Valkeapää have been creating songs since childhood. The repertoire of the duet Kann/Valkeapää consists of very varied pieces. There are two guitars and an overwhelming voice that will however leave space for physical movement. The duet has received both very positive and very negative responses, they have been loved and hated. It is obvious that the band enjoys their performance sharing this delight with the audience even though their songs lack classic structure and easily recognizable reprises. www.myspace.com/kannvalkeapaa
SUCCUBUSSUCS Trash psalm band Succubussucs is a collaboration between visual artist Mi Duncker, contemporary dancer Anne Hiekkaranta and visual artist Hannaleena Heiska. www.myspace.com/succubussucs
Es organisiert : Niina Lehtonen-Braun, Mirka Raito & Mimmi Pakkala von der JOKAklubi Crew aus Anlass der Ausstellung "Ausgrabungen des Alltags – Arjen kaivauksilla" von Niina Lehtonen-Braun, Mirka Raito und Outi Pieski im Finnland-Institut in Berlin und mit Unterstützung von Arts Council of Finland.