Joke Lanz [rec release] /// Friederike Kenneweg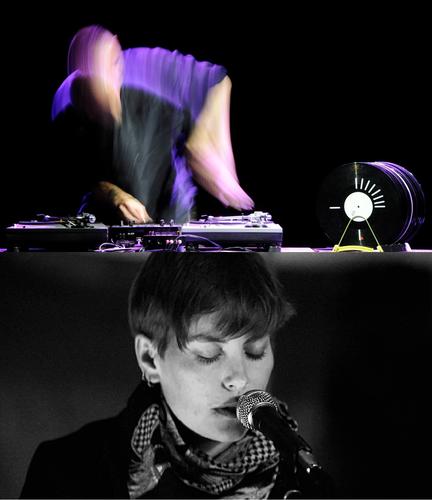 JOKE LANZ - solo turntables
LP release party: "JOKE LANZ plays SUDDEN INFANT" (iDEAL141)
www.suddeninfant.com
soundcloud.com
FRIEDERIKE KENNEWEG - spoken word
www.friederike-kenneweg.de
decks: FEARPLAY
www.mixcloud.com
Doors 20:00, Concerts 21:00
@ facebook

As turntablist Joke Lanz creates autonomous sound-cells that melt into a language free of any function. He combines ritual reductionism with anarchistic playfulness, atmospheric soundscapes with cut-up noise and physicalness with unpredictability: Massive scratches, walls of sound, grooves, loops, noises and voice modulations!
Best known for his international acclaimed Noise project 'Sudden Infant', Joke Lanz is presenting his work since 25 years all over the world. Born in Switzerland and currently operating out of Berlin, Joke Lanz is one of the most prolific and profound artists working in the border zones where performance and body art meet Improvisation and Noise.
On "Joke Lanz plays Sudden Infant", Joke travels down memory lane: Two decks a mixer and a dozen of old Sudden Infant vinyls to spin, scratch, manoeuvre, loop and juggle into a narrative new composition.
Recorded and mastered by Rashad Becker in Berlin, this album combines Joke Lanz' unique turntablism and intuition for mutant-body-dramas peppered with a great sense of humour from the rhythms of amplified faders and his own breath to spoken interjections of Bryan Lewis Saunders' dream lyrics.You can dance, you can cry, you can smile, you can die!
Friederike Kenneweg ist Musikerin und Autorin. Ihr Interessenschwerpunkt liegt an der Schnittstelle zwischen Musik, Klang, Stimme, Sprache, Schrift. Sie studierte Angewandte Theaterwissenschaft in Giessen. Als Sound-Designerin hat sie sich auf Hör- und Sprachcollagen spezialisiert und arbeitete u.a. für den Mousonturm in Frankfurt und das Gorki Theater in Berlin. Ausserdem schreibt sie journalistisch über Literatur und über (Neue) Musik, verfasst Hörspiele und Radiobeiträge und widmet sich der hintergründigen Kurzprosa.