Judith Wegmann
Submitted by
caribu
on Sat, 2015-01-10 10:22.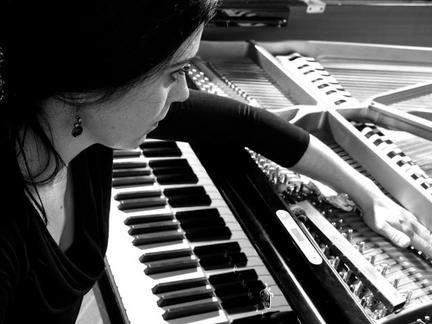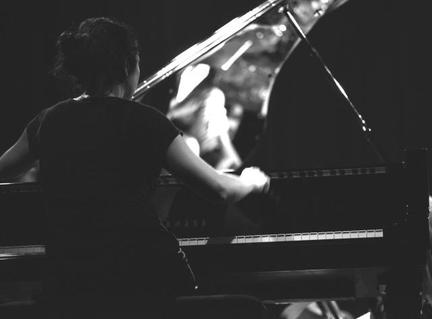 Swiss pianist Judith Wegmann started to play the piano at the age of six. She received her education at the famous Jazz School of Lucerne and the Swiss Jazz School of Bern with Roberto Domeniconi, Olivier Truan and Christy Doran, focusing on Modern Jazz and Free Improvisation. Subsequently she earned a Bachelor and a Master's degree with highest distinctions in Classical Studies (Pedagogy and Piano) from the Music Universities in Neuchâtel and Lucerne. She continued studying with renowned musicians including Sebastian Risler, Karl-Andreas Kolly, Tobias Schabenberger, and Gerardo Vila, and attended Master Classes in Switzerland, France and Austria. Recently, she completed a second Master's degree at the Conservatory of Basel (with Fred Frith and Alfred Zimmerlin), concentrating on free improvisation and Contemporary Music.
As a classical pianist Judith performs on stage on a regular basis and in different chamber music formations. Her ability to switch between different genres allows her to engage in classical, contemporary as well as improvisation-based projects. Judith frequently conceptualizes concert programs, taking management responsibilities from the early stages of planning to the public performance. Her concerts have been performed in Switzerland as well as abroad – for example "Bach, Schumann et l'ombre de Nico" with Alexandre Caldara (F/CH, 2006) or the performance series with Claudia Bucher, Jonas Kocher and Christian Müller (2009/10). Cross-disciplinary projects are an important aspect of her work. Collaborations with composers, visual artists and writers foster new approaches and paths, as in "Schwarzberg" with Swiss composer Werner Bärtschi (2011). Together with her piano partner Faristamo Susi she was hired by the "Kunsthalle Basel" for the widely celebrated Swiss premiere of afro-american composer Julius Eastman's "Songs for a mad King" in 2013. In the same year she participated in a production for the "young stage" of the theater Biel-Solothurn, and in projects supervised by Gil Selinger, Josep-Maria Balanya. Further projects are planned for the near future.
In 2011 she was awarded a distinguished grant "Förderpreis" by the canton of Zug, Switzerland, which supported some of her most innovative projects.
In 2013 she founded the New4Art Ensemble. Her work with this ensemble was awarded a prize by the city of Biel "Werkbeitrag", Switzerland, in 2014.
From 2015 onwards, Judith will be a member of the board of the Society of Free Improvisation ("Werkstatt für die freie Improvisierte Musik") in Bern and will be head of their "open workshop -". For further information see www.judithwegmann.ch und www.soundcloud.com/judithwegmann