Julie Sassoon
Submitted by
Mathias
on Tue, 2011-11-29 16:19.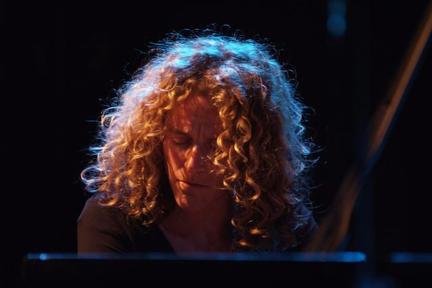 British pianist/composer Julie Sassoon is classically trained on piano and violin. She graduated in music and visual arts from Lancaster University in 1988, winning the university prize for piano performance, and later completed postgraduate studies in jazz piano and Indian violin at Leeds College of Music.

She came to the attention of critics and audiences in 2000, when she formed the remarkable Azilut! trio with Bart van Helsdingen (twice nominated Best Jazz Drummer in the Netherlands), and Lothar Ohlmeier (tenor and soprano saxophone, bass clarinet). They released their album "To The Power Of Three" in 2001 on the Babel Label. Azilut! has performed at major venues and festivals throughout the UK and Europe, receiving outstanding reviews.
She has been a key member of ensembles including Piano Circus, the international contemporary music ensemble for six pianos; Inside Colours, a dynamic duo with Lothar Ohlmeier; Martha Lewis's world music group - Café Aman,; Duo with accordionist Karen Street & Freefall with BBC New Generation Artist -Tom Arthurs (trpt) & Milo Fell (dr).
In 2006 she released the critically acclaimed solo piano album 'New Life' - on Babel Records, which was voted among the top ten favourite international albums in Jazzwise Magazine. The solo gig she shared with Oregon at the Queen Elizabeth Concert Hall in the London International Jazz Festival was described as 'one of the most inspired pairings of the festival' and received a 4 star Evening Standard review as well as an invitation to appear on BBC Radio's famous 'Woman's Hour'. The concert was broadcast on Radio 3. In 2008 Julie enjoyed a successful solo piano tour, sharing a double bill with BBC Artist - Tom Arthurs (trpt) and his AHR trio. In the 2008 London Jazz Festival they teamed up for a BBC live concert, broadcast for Radio 3 'Jazz line up'.
Since her recent move to Berlin, Julie has formed some exciting new musical collaborations, including; 'The Art of Duo' with Israeli singer – Efrat Alony. They recently performed for a live broadcast at the RBB Sendesaal in Berlin; an improvising chamber music duo with saxophonist - Frank Paul Schubert; the Julie Sassoon Quartet with Yorgos Dimiriadis (dr), Miles Perkin (Bass) Lothar Ohlmeier (sax) & Sassoon/Ohlmeier/Arthurs Trio.
Julie has performed her music throughout UK, Europe, the Baltic States and USA, at venues including Queen Elizabeth Hall; Royal Festival Hall; Barbican; BBC Radio Theatre, London; Bimhuis, Amsterdam; Vilnius Concert Hall; Royal Northern Music Concert Hall; Nikolaisaal Potsdam; Pizza Express Jazz Club Soho; RBB Sendesaal, Berlin; The Jazz Café, Camden; Djanogly Recital Hall, Nottingham; Guildhall, Bath International Music Festival; University of Pennsylvania. London/Manchester Jazz Festivals. She has performed live for BBC Radio and on Dutch, German and French radio/TV.
As a visual artist Julie has exhibited her paintings in London, Manchester, Edinburgh & Berlin.
She has played with:
Ingrid Laubrock, Andreas Willers, Frank Paul Schubert, Efrat Alony, Lothar Ohlmeier, Bart van Helsdingen, Stan Sulzmann, Jan Roder, Tom Arthurs, Samuel Rohrer, Yorgos Dimitriadis, Miles Perkin, Rudi Fischerlehner, Petr Cancura, Samuel Blaser, Stefan Werni, Hans Kanty, Christian Jandreiko, Milo Fell, Karen Street, Andy Tweed, Mike Walker, Nikki Iles, Martha Lewis, Max Richter, Antonio Forcioni, Tobias Klein, Dylan Bates, Stevko Busch, Susanne Folk, Peter van Huffel, Sophie Tassignon, Elisabeth Tuchmann, Sam Britton, Dave Kane, Jasper Hoiby, Stuart Ritchie.