Kai Fagaschinski + Rac_Ka + Fake Field Recordings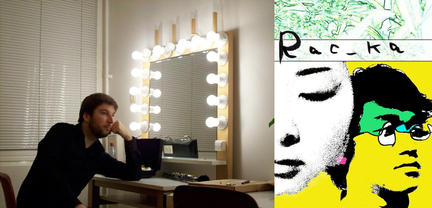 Kai Fagaschinski - Klarinette
Fagaschinski fokussiert eine subtile Musikalität der Geräusch- und Klangphänomene. Als Autodidakt hat er auf seinem Instrument eine persönliche Sprache entwickelt, die sich durch eine ausgefeilte Nutzung von Mehrklängen auszeichnet. Seine Musik verbindet Abstraktion mit angedeuteter Melodiösität und hinterhältigem Ausdruck. Er arbeitet sowohl kompositorisch als auch improvisatorisch und bevorzugt langfristige Zusammenarbeiten.
Zu seinen aktuellen Projekten zählen u. a. The International Nothing mit Michael Thieke, Los Glissandinos mit Klaus Filip, The Magic I.D. mit Margareth Kammerer, Christof Kurzmann und Thieke, Duo mit Burkhard Stangl, The Dogmatics mit Chris Abrahams und das Splitter Orchester.
Er präsentierte seine Musik live in 17 europäischen, zwei nord-amerikanischen und drei asiatischen Ländern und veröffentlichte zahlreiche Tonträger.
Rac_Ka
Kanade Amano - harp,voice
Toru Koda - electric bass
rac_ka is Japanese experimental duo based in Osaka and Kyoto.
Since 2007, they have organized a series of events called "netekiku-ongakusai" at Osaka port side. While the audience is lying down on the floor in the huge white room, they can see large video projections on the ceiling above their head, and listening to the concerts without watching the performers.
In 2009 summer, rac_ka toured europe and they had four concerts in Berlin.
Toru Koda also makes works also as a composer for performance art music. Kanade Amano works as a singer and takes part in other musical projects.
http://www.myspace.com/rackatorikodarackaperikanadeonpedierackasvetlo
Fake Field Recordings
Felicity Mangan - electronics
Olaf Hochherz - electronics
Felicity Mangan is an Australian sound artist based in Berlin, Germany since 2008. In different situations being solo performance, with other players or installation Felicity utilizes CD players and a mixer to reshape and play sound samples from a found Australian native animal CD, played on a stereophonic system or often via hand-made speakers made from re-cycled and found objects.
Olaf Hochherz is born 1981 in Wuppertal/Germany. He studied at Folkwang Hochschule Essen electronic composition and at Bauhaus University Weimar media-art/media-design. Parallel to the education in composition he started to improvise with self build electronic instruments. He is interested in unstable systems. His goal is not to control a technical aperture but to create an associative field. The sounds have their own live. His playing tries to keep them alive. He is interested in the effect acoustic activity has, the relation between surrounding environment and instruments, between abstract sounds and associations, between electrical and other worlds.
Einlass: 21:00 Uhr
Beginn: 22:00 Uhr pünktlich
Im Rahmen von ohrenstrand.net