Karen Power
Submitted by
Mathias
on Mon, 2016-01-04 22:56.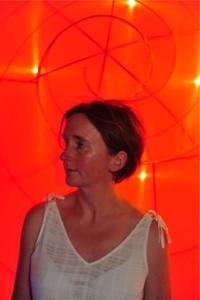 Karen Power is an Irish composer, educator, improviser and academic who writes primarily for acoustic and electroacoustic forces.
In 2009 she completed a PhD in acoustic and electroacoustic composition at SARC (Sonic Arts Research Centre), Belfast, with Prof. Michael Alcorn. Throughout her PhD, Karen's works focused on the commonalities and individualities of both acoustic and electroacoustic composition aiming to develop a more integrated language, which acknowledges and utilizes such strengths.
Recently Karen has spent time in residency at The Arctic Circle, The Banff Centre, Canada, The Guesthouse, Ireland, UCDavis, California, USA and in 2015/16 be artist in Berlin through a DAAD Award. She has been composer in Residence with Galway Music Residency Program and Music Generation. Karen has written pieces for Bozzini Quator, Alarm Will Sound, SCAW, Carin Levine, ConTempo, the Ulster Orchestra, RTE Symphony Orchestra, Kate Ellis, Mmm Trio and Quiet Music Ensemble. She has been awarded national and international awards and honorary mentions for her work and has represented Ireland internationally on a number of occasions. Karen's installation work and her recent interest in field recordings has taken her music across many genres and art mediums including: video, dance, film, painting, sculpture and glass. This cross-arts approach has enabled some of her more open-time music to be presented in spaces like galleries, parks, warehouses and houses, which offer audiences choice in how and when we listen. Last year Karen developed her first radio art work, which was premiered live to air on RTE Lyric fm. This piece hearspace has since travelled the world and has been heard on radio stations from Australia to Germany.
Karen's compositional interests are constantly shifting, transforming and re-shaping, with recent projects including; a new piece for orchestra and live electronics, which was premiered by Ireland's National Symphony Orchestra in a concert which featured and was curated by Karen, a sound and movement collaborative work with Mary Nunan and installation work.
Karen is an active improviser, who specializes in using environmental and everyday sounds as catalysts for constructing new soundworlds, which also feeds in to her educational work with children and adults.
In her education work she is specifically interested in creating new music and sounds with children through active workshops, which allow children to explore, create and perform their own compositions. Children are intuitively open and my aim as an artistic educator is to introduce new sounds, musical experiences and draw out creative impulses in my work. Much of Karen's work in this area includes the use of improvisation, an awareness of our natural soundscape and the creation of alternative natural instruments as performance tools. Her current program is called Natural Creators and is suitable for 3-5 years.