Kasper T. Toeplitz +Reinhold Friedl// Mark Harwood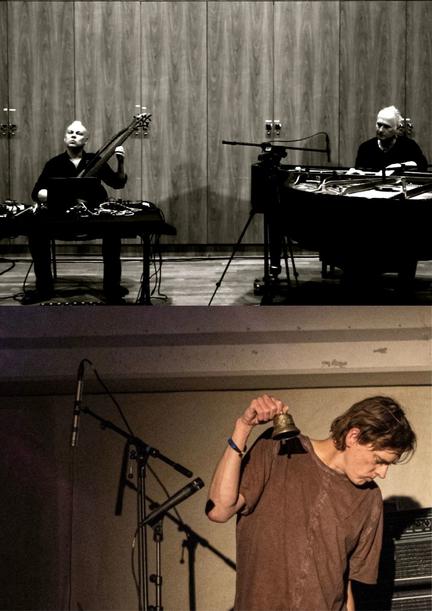 Doors 20.30 | Start 21.00 | Ticket (no presale) € 10,--
LA FIN DES TERRES Kasper T. Toeplitz & Reinhold Friedl
Kasper T. Toeplitz (electric bass)
Reinhold Friedl (piano)
Mark Harwood
performance
LA FIN DES TERRES Kasper T. Toeplitz & Reinhold Friedl
An astonishing meeting of two instrumentalists: Kasper T. Toeplitz (electric bass) and
Reinhold Friedl (piano), but even more undoubtedly a musical union between two
composers: the music is clearly built on a double thought of the architecture of time, of the
creation, disappearance and mutation of textures much more than on classical virtuosity, an
adequacy to the organological principles of the instruments. Piano and electric bass. Both
musicians have left the familiar paths of their instruments to make them the tools of their
compositional principles. This opens up new possibilities - which here extend to the finest
level of sound textures.
As Laurent Nerzic turned it in the renowned French music journal Revue&corrigée #136:
"This piano/electric bass duo offers us two hours of menacing music. I invite you to listen
carefully to the roundness of Kasper's bass, particularly at the end of the first piece, which
suddenly takes a less abstract and unexpected turn, while Reinhold's piano regularly strikes
up a sustained funeral march. Two hours of organic music that never ceases to grow and
diminish in perpetual motion. In any case, this disc is overflowing with finesse, richness and
subtlety".
Kasper T. Toeplitz As a composer and electric bass player, Kasper Toeplitz has developed his work in the no man's land between "academic" composition (orchestra, ensembles, opera) and electronic noise music. He works as much with major state institutions (GMEM, GRM, IRCAM, RadioFrance) as with experimental or unclassifiable musicians such as Eliane Radigue, Zbigniew Karkowski, Dror Feiler, Phill Niblock, z'ev or Vomir, among others. His music is highly influenced by what he calls "electronic thinking", even his music for acoustic instruments. He often collaborates with contemporary dance and his music is performed - whether in solo concerts or by various ensembles - throughout Europe, North and South America, Asia and Australia. Since 2019 he is Associate Composer at Art Zoyd Studios.
Reinhold Friedl is one of the leading figures of his generation in avantgarde music, a pioneer of new physical sound qualities ranging from precise sensuality to noisy harshness: he makes the piano sing, his internationally acclaimed ensemble zeitkratzer opened up new horizons for ensemble playing by developing new musical practices. Music and collaborations from Xenakis to Lou Reed, from folk music to Stockhausen, from Keiji Haino to dance, performance art and video. Reinhold Friedl's compositions take up here: orgies of sound for orchestra, noise choreographies for string quartet, extended techniques worthy of the name turning the solo piano into a sensual sound orchestra.
Mark Harwood (AU)
Mark Harwood is an Australian artist, musician, performer, writer, event curator and publisher.
He deploys a wide variety of techniques approached with a sense of bypassing the cliches embedded within, in order to coerce a sound world which is simultaneously contemporary, foreign, beautiful, unsettling and engaging. Harwood has released three acclaimed lp's on Kye (USA) and Penultimate Press (UK) and the Astor moniker along with a series of collaborative recordings with Graham Lambkin, Áine O'Dwyer, Timo van Luijk and more. His last two lp's released under his own name have become more human and personal explorations. The first of which explored the internal psyche whilst the follow up, this years 'Offering', is an album of songs about geography and placement and the way people choose to move across the surface of our planet.
His live performances skirt a more performative presentation of his work often incorporating spontaneous moments of anything from comedy, pathos, songs etc The audience is witness to and subject of an exploration of the human psyche. This is by no means a purely sound based affair.