Katsura Yamauchi / Seiji Morimoto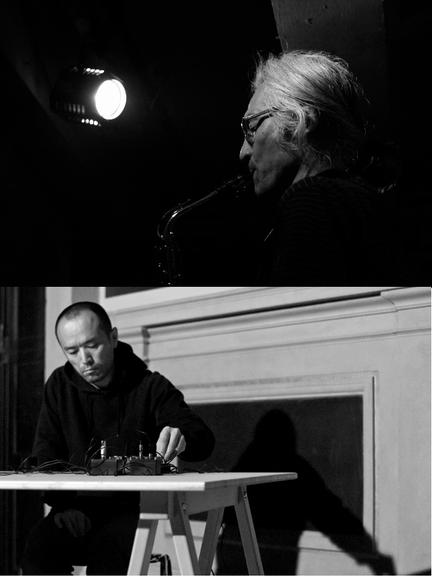 Katsura Yamauchi - saxophone solo
"HoFuNeM" film screening
/// /// ///
Duo: Katsura Yamauchi - saxophone // Seiji Morimoto - electronics
-----
Katsura Yamauchi (b. 1954)
- solo saxophone
Katsura Yamauchi picked up his first saxophone in the early 1970s and was quickly drawn to modern jazz, avant-garde and free improvisation. Born in Beppu, far from the traditional creative centers around the bigger cities in Japan, Yamauchi was until recently relatively unknown, but has now shown himself to be one of the most unique musicians in Japan.
For years Katsura Yamauchi was sporadically active as both musician and concert organizer, and helped arrange performances in Japan for veteran musicians from both the USA and Europe, such as Derek Bailey, Tristan Honsinger and Milford Graves. Not until 2002 did he quit his regular job to dedicate himself fully to music. Yamauchi was influenced by the new experimental sounds coming from Tokyo, but had developed his own original style, mixing improvisation and minimalism with melodic elements. The music is at the same time challenging and easily accessible, unrecognizable and beautiful.
Katsura Yamauchi has released several solo CDs and recorded with Michel Doneda, Gunter Muller and Norbert Moeslang from Voice Crack and performed with Taku Unami, I.S.O., Misha Mengelberg, Tatsuya Nakatani, Sharif Sehnaoui, Jason Kahn, Otomo Yoshihide, sachiko M, Barre Phillips, Kim Dae-Hwan, Gino Robair, Toshinori Kondo, Yoshimitsu Ichiraku, Travassos, Toshimaru Nakamura, Seijiro Murayama, Han Bennink and many others.
In addition to extensive activity in Japan, Katsura Yamauchi has toured the USA and several times in Europe. He has performed at the following festivals: Musique Innovatrices 2005, Castello Canalis 2007, Beppu Contemporary Art Festival 2008, Ftarri Festival 2008, Amplify Festival 2008 and Asian Meeting Festival 2009.
"Katsura Yamauchi is really both a new and a veteran artist... I am greatly refreshed by his energetic and confident performance."
- Otomo Yoshihide, July 2003
SEIJI MORIMOTO
Born in Tokyo 1971, studied musicology at the Kunitachi College of Music, graduating in 1996. During this period he began to play the electronic pieces by John Cage and his own sound performances. Since then he has been creating sound performances, installations and videos. In 2003 Morimoto moved to Berlin, has performed and exhibited in many international festivals including transmediale in Berlin, Experimental Music Festival in Munich. He is interested in the uncertain acoustic appearances between usual objects, for example water and stones, and the technical medium.
He has collaborated with Takehisa Kosugi, Keitetsu Murai, Olivier Di Placido, Francesco Cavaliere, Olaf Hochherz, Rius van Alebeek, Ignaz Schick, Luciano Maggiore, Crys Cole, Felicity Mangan, Alessandra Eramo, Nicolas Wiese, Kakawaka, Seijiro Murayama, Jamie Drouin, Hannes Lingens, Johnny Chang, Katsura Yamauchi and many others.
www.seijimorimoto.com
Doors: 9.00 pm

Concert: 10.00 pm