Kukangendai 空間現代+長江章文 aka NAGA-ECSTASY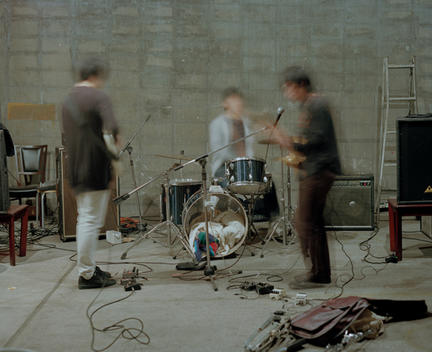 KUKANGENDAI:

野口 順哉  Junya Noguchi(guitar / vocals)
古谷野 慶輔 Keisuke Koyano(bass)
山田 英晶  Hideaki Yamada(drums)
Doors 20:00, Start 21:00 | @facebook
Kukangendai was formed by the current three members in 2006.The music played in the form of three piece band (guitar, bass and drums) is created based on their idea of mixing edit, copy, repeat and error. Such twist and musical restraint in live performance make their music to be strict, but humorous.
In recent years, the band has been trying to create an environment of unified rhythm in their live performance by mixing several different pieces.
Based in Tokyo, the trio has worked with such artists as ECD, Norimizu Ameya, Kakuya Ohashi and his dancers who are cutting-edge in their own genre.
The band is currently in charge of music for Brecht's play, "Fatzer," performed by a theater company, CHITEN.
2006年、現行メンバー3人によって結成。
編集・複製・反復・エラー的な発想で制作された楽曲を、スリーピースパンドの形態で演奏。
これによるねじれ、 負荷が齎すユーモラスかつストイックなライブパフォーマンスを特徴とする。
近年では演奏における一つの試みとして、並走する複数のグルーヴ/曲を行き来しながらも、
ライブに流れる時間全体が一つのリズムとして立ち現れてくる様なライブ形態の
構築と実践に取り組んでいる。
東京でのライブを活動の中心としながらもECD/飴屋法水/大橋可也&ダンサーズなど
先鋭的なアーティスト達とのジャンルを超えたコラボレーションも積極的に行っている。
現在は京都において 断続的に公演される演劇作品、劇団「地点」によるブレヒト戯曲作品
『ファッツァー』の音楽を担当。
2009年:ファーストアルバム『空間現代』
2012年:セカンドアルバム『空間現代2』
2013年:月刊リミックス配信企画「空間現代 Monthly Remixes」
2014年:ライブアルバム『LIVE』
Akifumi Nagae 長江章文 aka NAGA-ECSTASY

https://naga-ecstasy.bandcamp.com/