Late Nights In Squat Bars & Cat N Guyen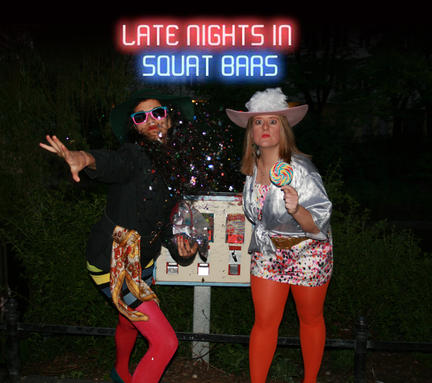 Late Nights In Squat Bars Record Release Show and Party
with Late Nights In Squat Bars (live)
special guests Cat N Guyen (live)
+ DJ Cindy Wonderful
Late Nights In Squat Bars:
Mit Stulpen, voll krassem Gesang und selbst-ironischem Hiphop bringt Late Nights In Squat Bars das Schubladendenken durcheinander. LNISB hämmern Beats aus ihren Perücken und dazu schlüpfen eingängige Indytronic Dance Jams aus einem mit rotem Nagellack beschmierten Ei. Heute präsentieren sie im ausland ihr neues Album, yes.
www.myspace.com/latenightsinsquatbars
Cat N Guyen:
Ein Equipmentkoffer wie ein Leatherman-Mufu-Taschenmesser.
Alles ein bisschen und nichts so richtig! Das Nicht-Fisch-nicht-Fleisch-Duo
aus den tiefen des ostdeutschen Provinz-Jungles fühlt sich eigentlich im
Black-Metal-Wohnzimmer so richtig wohl, aber dann, als die Bravo-Interviews
ausblieben, überlegten sie sich, aus teenagerhafter Trotzigkeit heraus,
dass das Pack nichts anderes verdient hat, als HipHopDreck! So sei es ...
www.myspace.com/erdeundplastik
Cindy Wonderful:
Butch Bombshell, DJ extrodinaire, 1/2 of Scream Club and creator of THE FAB LAB art gallery!
www.myspace.com/cindywonderful