Laura Engelhardt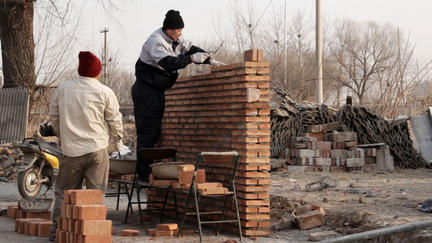 - A film night with movies by Laura Engelhardt -
Doors 20:00, Start 20:30 |
Programme:
Bauangriff (Construction Assault), 2015, 7'20 min.
突击建房 – Bauangriff refers to the phenomena of 'tuji jianfang' (construction assault) in Beijing: houses get built just to be demolished.
- Neighbourhood Records, 2019, 26'40 min.
Neighbourhood Records observes, over the course of two years, an inner courtyard in Berlin, in which investors erect a new residential building for resale.
- Das Schloß (The Castle), in collaboration with Florian Dedek, ca. 80 min., Premiere 2020, work in progress / 20 minutes excerpt
Das Schloß is based on the same-titled novel fragment by Franz Kafka and was filmed in Israel and Palestine.
[en]
Laura Engelhardt (born 1988 in Bremen) studied Architecture and Fine Arts in London, Stuttgart and Berlin and is currently doing the postgraduate programme at the Academy of Media Arts Cologne.
Her films examine built and imagined architectures and the fragile relation between the human body and its environment. She lives and works as a filmmaker and artist in Cologne and Berlin.

[de]
Laura Engelhardt wurde 1988 in Bremen geboren und studierte Architektur und Kunst in London, Stuttgart und Berlin. Momentan absolviert sie das postgraduale Studium Mediale Künste an der Kunsthochschule für Medien Köln. Ihre Filme untersuchen gebaute und imaginierte Architekturen. Sie lebt und arbeitet als Filmemacherin und Künstlerin in Berlin und Köln.