Lea Schneider und Athena Farrokhzad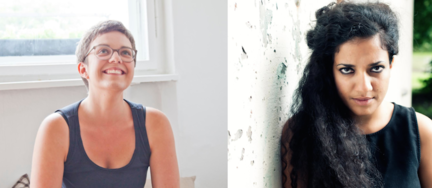 auslandSPRACHEN
(FOR ENGLISH AND SWEDISH SEE BELOW)
Lesung und Gespräch mit Athena Farrokhzad (Schweden/Iran) und Lea Schneider (Deutschland). Moderiert von Cia Rinne.
19. November 2017 - 20:30 Uhr
Geöffnet ab 20.00 Uhr
(Beginn 20:30 Uhr)
Eintritt: 5 EUR
Am 19. November 2017, 20:30 Uhr werden in ausland Lea Schneider und Athena Farrokhzad ihre Texte lesen und ins Gespräch kommen. Cia Rinne stellt an diesem letzten Abend von auslandSPRACHEN beide Autorinnen und Übersetzerinnen vor und führt mit ihrer Moderation durch den Abend.
Athena Farrokhzad und Lea Schneider sind Strateginnen eines pluralen literarischen Sinnes. Im Farrokhzads Debütband "Vitsvit" erklingen die Stimmen der iranischen Familie der Erzählerin in Merksätzen und Zurechtweisungen. Die Anwesenheit dieser Erzählerin ist zwar um so fühlbarer, aber man hört sie selbst nur selten sprechen. Diese Perspektivierung verschärft den Blick darauf, was zwischen den Beteiligten geschieht und was sie trennt. Lea Schneiders Langgedicht "herbst in nanjing" ist ein polyphones Gespräch zwischen acht Partnern, die in Nanjing über China sprechen, nachdenken und auch schreiben. Aus dem suchenden Kommentaren des Gruppenbilds mit der Erzählerin, schält sich der um so fragilere und komplizierte Gegenstand des Gesprächs, das Fremde, das von ihr selbst so genannte "Ultra-Unreale" des Landes erst angemessen heraus. Beide Autorinnen engagieren sich in ihrer Arbeit auch kollektiv: Lea Schneider im Lyrikkollektiv G13, Athena Farrokhzad im poesikollektivet G=T=B=R=G. Als Übersetzerinnen, die sie beide auch sind, gehört es zur Signatur ihres Schreibens, ihr Schaffen auch in einen politischen Kontext zu stellen, es als eine engagierte Literatur in Begegnung zu betrachten und auch als einen Kampf zu sehen, bei dem die Schrift bzw. der Klang, die sie nutzen, auch als Körper verstanden werden kann.

Athena Farrokhzad wurde 1983 im Iran geboren. Einige Jahre später kam sie nach Schweden und wuchs auf in Göteborg. Ihr vielbeachtetes Lyrikdebüt "Vitsvit" wurde 2013 bei Albert Bonniers Förlag veröffentlicht. Athena Farrokhzad arbeitet bereits seit einigen Jahren im Autorenkollektiv G=T=B=R=G zusammen - 2016 erschien ihr zweiter Gedichtband "Trado" in Kooperation mit der Rumänin Svetlana Carstean im selben Verlag. Ihre Gedichte veranschaulichen die faktische, gleichwohl oft ausgeblendete Erosion des Konstrukts vom "Skandinavischen Modell" als schwedischer Nationalidentät. Ihr letztes Buch eröffnet einen vielstimmigen Raum, in dem individuelle und kollektive migrantische Erfahrung entgegen den Zumutungen kulturalistischer Ideologie und authentizistischer Lesarten poetisch perspektiviert wird. Die Texte von Athena Farrokhzad schaffen eine vielschichtige Klang- und Sprachlandschaft.
Lea Schneider (*1989 in Köln) lebt nach längeren Studienaufenthalten in China und Taiwan als freie Autorin und Übersetzerin in Berlin, wo sie mit dem Lyrikkollektiv G13 an Gedicht-Performances und Formaten des kollektiven Schreibens arbeitet. 2014 erschien ihr Debütband "Invasion rückwärts" im Verlagshaus Berlin, der u. a. mit dem Dresdner Lyrikpreis ausgezeichnet wurde. 2016 folgte das an der Grenze von Lyrik, Prosa und Bildender Kunst operierende E-Book "O0" (in Kooperation mit Tillmann und Sebastian Severin). Als Übersetzerin und Kuratorin chinesischer Gegenwartslyrik war sie für das poesiefestival berlin, lyrikline.org und die Bundeskulturstiftung tätig. Zuletzt erschienen ihre Übersetzungen des chinesischen Dichters Yan Jun ("internationaler tag der reparatur", hochroth berlin, 2016) und die Anthologie "CHINABOX. Neue Lyrik aus der Volksrepublik", die sie als Übersetzerin und Herausgeberin betreut hat.
Cia Rinne, 1973 in Göteborg/Schweden und in Deutschland aufgewachsen, Studium der Philosophie in Frankfurt, Helsinki und Athen, lebt als Autorin und Künstlerin in Berlin. Sie schreibt mehrsprachige visuelle und akustische Lyrik, die sie vorträgt und mitunter ausstellt. Von ihr erschienen sind unter anderem "zaroum", Helsinki 2001, die Online-Arbeit "archives zaroum", 2008, "notes for soloists", OEI-Editör, Stockholm 2009, die Toninstallation "sounds for soloists" (in Zusammenarbeit mit Sebastian Eskildsen 2012) und "should we blind ourselves and leave thebes", H//O//F, Moss 2013. Ihre Arbeiten wurden unter anderem im Bielefelder Kunstverein, bei Signal in Malmö, im KUMU Museum Tallinn, Overgaden und Den Frie in Kopenhagen und bei INCA in Seattle gezeigt. Lesungen und Performances unter anderem auf dem poesiefestival berlin, abc berlin, Louisiana Literature, Kiasma Helsinki, Fondation Louis Vuitton und dem Maison de la poésie in Paris. In Deutschland wurde Cia Rinne vor allem durch ihr dokumentarisches Buch "Die Romareisen", Steidl 2007, das sie gemeinsam mit dem Fotografen Joakim Eskildsen veröffentlichte, bekannt.
Die Veranstaltung wird simultan übersetzt.
Mit freundlicher Unterstützung der Senatsverwaltung für Kultur und Europa.
------------------------------
ENGLISH:
auslandSPRACHEN
Reading and discussion with Athena Farrokhzad (Sweden/Iran) and Lea Schneider (Germany). Moderated by Cia Rinne.
19 November , 2017 - 8:30 pm
Doors open at 8 pm
(Beginning at 8:30 pm)
Admission: 5 EUR
On 19 November, 2017, 8:30 pm, Lea Schneider and Athena Farrokhzad will be reading from their texts and discussing poetry with Cia Rinne. Cia Rinne will introduce and moderate both authors on this final evening of the series "auslandSPRACHEN" in 2017 throughout the evening.
In Farrokhzad's debut collection Vitsvit, the voices of the narrator's Iranian family can be heard in memorable speeches but also reproaches. The presence of the narrator is palpable, but you rarely hear her speak. This perspective intensifies the view of what happens between and what separates the participants.
Lea Schneider's long poem herbst in nanjing is a polyphonic conversation between eight partners who talk, think and write about Nanjing in China. A fragile and complicated object of the conversation, which the author describes as the "ultra-unreal", emerges from the searching commentary of the group picture with the narrator.
Both authors also engage in collective work: Lea Schneider is a member in the poetry collective G13, Athena Farrokhzad of the poetic collective G = T = B = R = G. They are both writers and translators. Besides that it is also characteristic for their writing that they put their work into a political context and see it as politically and socially active literature in interaction while considering it as a struggle in which the writing or the voice that they use can also be understood as a being.
Athena Farrokhzad was born in 1983 in Iran. A few years later she moved to Sweden and grew up in Gothenburg. Her highly acclaimed lyric debut Vitsvit was published in 2013 by Albert Bonniers Förlag. Athena Farrokhzad has been working for several years in the author collective G=T=B=R=G. In 2016 she published her second volume of poems, Trado, written in cooperation with the Romanian poet Svetlana Carstean and printed by the same publishing house. Her poems illustrate the factual, yet often hidden, erosion of the construct of the "Scandinavian model": Swedish national identity. Her last book opens a polyphonic space in which individual and collective migrant experience is juxtaposed with culturalist ideology and authenticist readings. Athena Farrokhzad's texts create a multi-layered sound- and language landscapes.
Lea Schneider (* 1989 in Cologne) lives as a freelance author and translator in Berlin, where she works with the poetry collective G13 on poetry performances and forms of collective writing. She has spent long stays studying in China and Taiwan. In 2014 she published her debut volume Invasion rückwärts with the Verlagshaus Berlin, which was awarded the Dresden Poetry Prize. In 2016 she published the e-book O0 (in cooperation with Tillmann and Sebastian Severin), which walks the line between poetry, prose and fine art. As a translator and curator of contemporary Chinese poetry, she has worked for the poesiefestival berlin, lyrikline.org and the Federal Cultural Foundation. Among her latest publications are translations of the Chinese poet Yan Jun (internationaler tag der reparatur, hochroth berlin, 2016) and the anthology CHINABOX. Neue Lyrik aus der Volksrepublik, which she supervised as a translator and publisher.
Cia Rinne was born in 1973 and grew up in Gothenburg / Sweden and in Germany. She studied philosophy in Frankfurt, Helsinki and Athens. She lives as a writer and artist in Berlin and writes multilingual visual and acoustic poetry, which she regularly performs and sometimes exhibits. Amongst others, she has published zaroum, Helsinki 2001, the online work archives zaroum, 2008, notes for soloists, OEI-Editör, Stockholm 2009, the sound installation sounds for soloists (in collaboration with Sebastian Eskildsen 2012) and should we blind ourselves and leave thebes, H // O // F, Moss 2013. Her works has been shown at Bielefeld Kunstverein, Signal in Malmö, KUMU Museum Tallinn, Overgaden and Den Frie in Copenhagen and INCA in Seattle. She has read and performed at the poesiefestival berlin, abc berlin, Louisiana Literature, Helsinki Kiasma, Fondation Louis Vuitton and the Maison de la poésie in Paris. In Germany, Cia Rinne became known mainly through her documentary book Die Romareisen, Steidl 2007, which she published together with the photographer Joakim Eskildsen.
The event will be translated simultaneously into English and German.
With the kind support of the Senate Department for Culture and Europe.
-------------------------------------
SWEDISH:
Läsning och diskussion med Athena Farrokhzad (Sverige / Iran) och Lea Schneider (Tyskland).
Modereras av Cia Rinne.
19 november 2017 kl. 20:30
Öppnar klockan 20:00
(börjar kl. 20:30)
Entré:
5 EUR
Den 19 november 19 2017 kl 20:30 läser Lea Schneider och Athena Farrokhzad sina texter och samtalar omkring dem i ausland. Cia Rinne introducerar på detta sista auslandSPRACHEN-evenemang båda författarna samt översättarna och modererar kvällen.
Athena Farrokhzad och Lea Schneider förespråkar litteratur i pluralistisk betydelse. I Farrokhzads debutsamling "Vitsvit" kommer berättarens iranska familjs röster till tals i korta meningar och tillrättavisningar. Berättarens närvaro är påtaglig, men man hör henne sällan tala själv. Perspektivskiftena skärper blicken för det som sker mellan parterna och det som skiljer dem.
Lea Schneiders långdikten "höst i nanjing" är ett polyfont samtal mellan åtta röster som talar, tänker och skriver om Kina i Nanjing. Ur dessa sökande kommentarer signerade gruppbild med berättare framträder desto tydligare samtalets sköra och komplicerade föremål, det främmande, det hon själv kallar landets "ultra-overkliga".
Båda författarna engagerar sig även kollektivt i deras arbete: Lea Schneider i poesikollektivet G13, Athena Farrokhzad i poesikollektivet G = T = B = R = G. Båda författare arbetar även som översättare och det hör till deras skrivande att sätta skapandet i en politisk kontext, att förstå det som engagerad litteratur i mötet och som kamp i vilken skriften, respektive ljudet som de använder sig av också kan förstås som kropp.
Athena Farrokhzad föddes 1983 i Iran. Några år senare kom hon till Sverige där hon växte upp i Göteborg. Hennes hyllade poesidebut "Vitsvit" släpptes 2013 av Albert Bonniers Förlag. Athena Farrokhzad har under flera år verkat i författarkollektivet G = T = B = R = G. Hennes andra diktsamling "Trado" som är skriven i samarbete med den rumänska poeten Svetlana Cârstean utkom 2016 på samma förlag. Hennes dikter åskådliggör den faktiska, dock ofta ignorerade erosionen av "skandinaviska modell"-konstruktionen som svensk nationalidentitet. Hennes senaste bok öppnar ett flerstämmigt rum, i vilken migrationens individuella och kollektiva erfarenheter poetiskt sätts i förhållande till prövningen av att utsättas för en kulturideologi och autenticistiska läsarter. Athena Farrokhzads texter skapar ett mångbottnat ljud- och språklandskap.
Lea Schneider (* 1989 i Köln) är efter efter långa studieresor till Kina och Taiwan numera bosatt i Berlin där hon verkar som frilansskribent och översättare och tillsammans med poesikollektivet G13 arbetar på poesiperformans och det kollektiva skrivandets former. 2014 publicerade Verlagshaus Berlin hennes debutbok "Baklänges invasion" som bland annat tilldelades Dresdener Lyrikpreis. 2016 följde e-boken "O0" (i samarbete med Mann och Sebastian Severin) som rör sig på gränsen av poesi, prosa och bildkonst. Som översättare och kurator av samtida kinesisk poesi har hon varit verksam för poesifestival berlin, lyrikline.org och den tyska kulturstiftelsen Bundeskulturstiftung.
Til hennes senaste publikationer hör översättningar av den kinesiska poeten Yan Jun ("internationaler tag der reparatur" , hochroth berlin, 2016) samt antologin "CHINABOX. Neue Lyrik aus der Volksrepublik", som hon stått för som översättare och redaktör.
Cia Rinne (Göteborg 1973), författare, bor i Berlin. Publiceringar, läsningar, performance och utställningar av flerspråkig minimalistisk poesi (bl.a. i Grimmuseum Berlin, INCA Seattle, Signal Malmö och Overgaden Köpenhamn) och dokumentariska projekt (bl.a. Die Romareisen, Steidl 2007). 2017 utkom l'usage du mot' (kookbooks Berlin, Héros-limite Genève och Gyldendal Köpenhamn) samt 'Skal vi blinde os selv og forlade Theben' (Forlaget Gestus, Köpenhamn).
Evenemanget simultantolkas.
Med vänligt stöd från Senatsverwaltung für Kultur und Europa.