Leon + Antoine Läng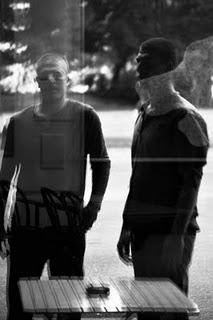 Leon
Raphaël Ortis - bass
Louis Schild - bass
+ Antoine Läng - voice & electronics
Leon is a bass duo consisting of Raphaël Ortis Louis Schild initiated by the Insubordinations Netlabel and premiered for the label's Microfestival in January 2011. The project has expanded and now becomes a trio with variable geometry by inviting different musicians for each tours , in order to constantly renew the sound language. Mechanical tearings or organic squeaks, the instrument is a tool to instinctively express the sound whose form has to be constantly re-carved. In this way, the fundamental aesthetic choices are related to the basic instrumentation, namely two basses, and are inspired by the meetings to expand the artistic discourse while keeping free and spontaneous improvisation as a guideline.
On this tour, Leon plays with Antoine Läng:
Antoine Läng's (vocals+electronics) taste for hybridization and experimentation leads him to use electronic devices as a means of voice processing to extend its field. Initiated in rock, metal or jazz bands, this process is ongoing and increasingly directed toward experimental and improvised music, in regular projects (dQtç, VLL678, Atomic Paracelze) as well as occasional meetings. Fascinated by the plasticity of voice, his approach to the instrument extends to several registers - spoken, sung, noisy - and includes some unique vocal techniques combining lyrical sophistication and brute animality.
Leon : http://www.ortis.ch/leon/
Antoine Läng : http://antoinelang.tumblr.com/