The Magic I.D.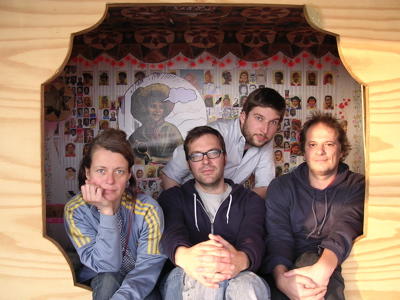 doors: 20:00 / beginn: 20:30
The Magic I.D.
(Berlin)
Kai Fagaschinski | clarinet
Margareth Kammerer | vocals & guitars
Christof Kurzmann | vocals, g3 & lloopp
Michael Thieke | clarinet
The Magic I.D. is a Berlin-based quartet exploring the juncture of song forms with abstract music. The band, consisting of Margareth Kammerer (vocals & guitars), Christof Kurzmann (vocals, g3 & lloopp), Kai Fagaschinski and Michael Thieke (both clarinet), formed in summer 2005 after previously being connected via smaller groupings and projects. The musicians expand "songs" through the prism of experimental sensibilities and mesh the two remarkably fluidly.
I'm So Awake / Sleepless I Feel (Staubgold 2011) is their second release and consists of ten intricately constructed pieces, each with its own individual shape, and all together very enjoyable. The combination of twin clarinets, guitar, subtle electronics and voices seems to be a simple one at first sight, but it comes with an intriguing approach. The combined effect creates a unique soundscape. After hearing two seconds of their "Magic" music, it could be mistaken for nothing else.
The quartet presented its music in Austria, Belgium, Czech Republic, France, Germany, Italy, the Netherlands, and Portugal, among others at Music Unlimited (Wels 2006), Jazz á Mulhouse (Mulhouse 2007), Teatro Fondamenta Nuove (Venice 2007), Angelica Festival (Bologna 2008), Vooruit (Gent 2009), Auditorium Parco Della Musica (Rome 2009), Serralves em Festo (Porto 2010), Echtzeitmusiktage (Berlin 2010), Konfrontationen (Nickelsdorf 2011), Alternativa (Prague 2011), Taktlos (Zurich 2012), and Music Unlimited (Wels 2012).
I'm So Awake / Sleepless I Feel gives both sonic adventurism and lyric expression their due; I haven't heard another record this year that sounds more complete. - Bill Meyer, Dusted's 2011 halftime report
At once daydreamy and gripping, The Magic ID sound refreshingly like on one else. - Clive Bell, The Wire
Such care and attention to detail runs right through the album. The irony is the amount of effort that must have been invested into music that sounds absolutely effortless. - John Eyles, Dusted Magazine
Wer sich gern in Gesellschaft von Intelligenz und Schönheit begibt, ist bei The Magic I.D. jedenfalls an der richtigen Adresse. - Andreas Fellinger, Freistil

Discography
2008 Till My Breath Gives Out CD/LP (Erstwhile Records)
2011 I'm So Awake / Sleepless I Feel CD/DL/LP (Staubgold)
Links
www.myspace.com/themagicid
www.staubgold.com