Margaret Rorison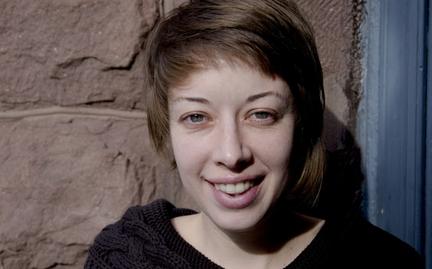 Clicks Inside My Dream
Short Films by Margaret Rorison
PROGRAM
16mm to video, 5 min, sound
The filmmaker returns to her old neighborhood in Brooklyn, New York. The footage captures a landscape known as The Gowanus Canal, an area of Brooklyn, which was once inhabited by a productive port and industrial compound. The area is now overly polluted and is officially registered as a superfund site by the US environmental protection agency. The film's soundtrack incorporates personal narrations as well as recordings of the filmmaker's grandfather who recalls his own memories of New York City. Additional sounds include recordings of a lumberyard and wind in Northern Vermont, keyboard, recordings of the projector projecting the film itself.
PULL/DRIFT (2013)
16mm to video, 9 min, sound
This film documents a unique choreographed performance that took place one late Summer afternoon in Patapsco State Park in Baltimore, Maryland. Choreographed by Clarissa Stowell Gregory and performed by The Effervescent Collective. Soundtrack composed by Josh Millrod.
The Waiting Sands (2013)
16mm to video, 5 min, sound
My grandfather, Harry Bennett was a huge influence on me as a young artist and thinker. He was a painter and had made a living as an illustrator for gothic and romance novels in the 1960s. In the last month of his life, he was omitted to the hospital with terminal conditions. Unable to film him, I began to capture the harvest moon outside his bedroom window as a way to cope with the emotions I was experiencing. A few hours after the footage had been shot, my grandfather passed away. This footage serves as a document of his last breaths. Soundtrack composed by Josh Millrod.
Funes el memorioso (2015)
8mm to 16mm to video, 2m, sound
The final footage of a painter, slowed down to lengthen the memory.
Sound by Audrey Chen (voice and cello) & Flandrew Fleisenberg (percussion)
DER SPAZIERGANG (2013)
16mm to video, 3m, sound
This film documents long walks throughout Berlin, Germany during the cold days of April, 2013. The film is edited in camera and composed of single frame snapshots along with longer moments of glance, captured on one 100' roll of film. The title comes from a story by Robert Walser.
The Birds of Chernobyl (2012)
16mm, 7m, sound
This piece was originally made as a performance with a live collage soundtrack. This is an ode to my grandfather, Harry Bennett and our shared interest in solitude and landscape.
vindmøller (2014)
16mm, 3 min, sound
This short film is a study of the wind turbines along the shores of Amager, Copenhagen. Triple exposed on one roll of color film, then finding four generations of grain. The soundtrack is a recorded live-improvisation by artist Mario de Vega using unstable media and acoustic resonators.
A Document for Hope (2015)
16mm, 8m, sound
The sterile and procedural narrative of the Baltimore City Police Scanner on Monday April 27 against precious moments of gathering, celebration and protest in Baltimore from April 28 – May 3, 2015.
Freedom, Flight-Flies From a Distance (2015) work in progress
16mm, 3m, sound
Saying goodbye from a closed window. Saying goodbye from afar.
************************************************************** 
Margaret Rorison is a curator and filmmaker from Baltimore, Maryland. She works with language, sound and imagery to create installations, films and live 16mm projections. Her work is impressionistic and personal, taking form as investigations into personal memories and experience. Her films often develop from extensive walks through rural and urban landscapes, combining moving images, field recordings and text. Rorison is the co-founder and director of the Baltimore experimental film series, Sight Unseen and member of The Red Room Collective, a 16 year old collective focusing on performance and improvised works.