Mary Ocher
Submitted by
Luzi
on Wed, 2018-03-21 17:37.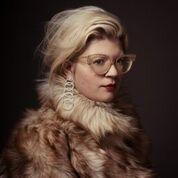 Mary has been persistently creating passionate, uncompromising work, raw, thought provoking, socially
and
creatively pushing against the current, dealing with subjects of authority, identity
and
conflict. Her work is as enchanting as it is polarizing, ranging from traditional folk to raw 60s garage, ambient with ethereal vocals
and
abstract synths, to experimental pop with African
and
South American rhythms, when accompanied by her drummers.
"The West Against The People" was released on the German label Klangbad in spring 2017 and recorded with
Hans Joachim Irmler
of Krautrock pioneers
Faust.
It features solo tracks, as well as tracks with her two drummers
Your Government,
and
elusive cult legends
Die Tödliche Doris
and
Felix Kubin.
It also features an essay elaborating on the themes of the album
and
analyzing the current sociopolitical climate*. The album is currently in its second edition, it was hailed by the British music press and featured in various "Best of 2017" lists.
"Faust Studio Sessions
and
Other Recordings" (10": Klangbad/DE + Sing A Song Fighter/SWE, tape: Related Records/US) features additional collaborations with cello player
Julia Kent
and
German experimental artist
Hans Unstern
. Her previous solo release was produced by Canadian Psych Rock&Roll guru
King Khan.