Mats Gustafsson
Submitted by Anonymous on Mon, 2009-11-09 17:05.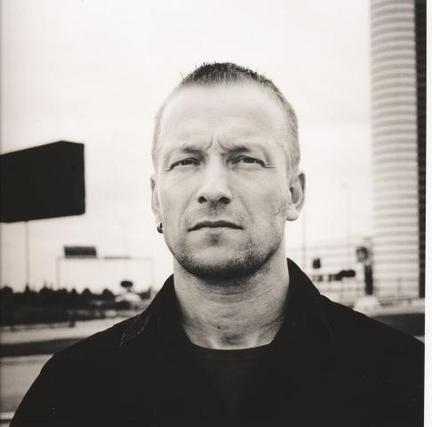 Born in Umeå, Sweden 1964.
Flute studies, keyboard mistreatments and activities in jazz-rock and punk units in Umeå in early 80`s.
Started playing improvised music with drummer Kjell Nordeson in 1982, with whom he started AALY Trio in 1986. Performances/ happenings with visual artist Edward G. Jarvis from 1984-.
Moved to Stockholm in 1985. Early collaborations with Dror Feiler, Jörgen Adolfsson, Christian Munthe and Sten Sandell & Raymond Strid with whom he started GUSH in 1988
Started collaborate with German drummer Paul Lovens in 1990 and has since then worked extensively as duo, trio, quartet and large ensemble (NU-ensemblen).
Early international collaborations with Derek Bailey (1988-), Sven -Åke Johansson (1989-) Per Henrik Wallin (1990-) Günter Christmann (1991-) Jim O 'Rourke (1990-) a.o.
First trip to the US in 1988. First meetings with Ken Vandermark, Hamid Drake, David Grubbs, Michael Zerang, Fred Lonberg Holm… in Chicago 1994. Member of the Peter Brötzmann Tentet since 1997.
Diskaholics Anonymous Trio w. Thurston Moore and Jim O'Rourke started in 2000 …
Member of Barry Guy New Orchestra since its start in 2000.
Formed The Thing with Norwegians Paal Nilssen-Love and Ingebrigt Håker Flaten in 2000 …
Frequent collaborators to The Thing is Joe McPhee, Ken Vandermark, Thurston Moore, Zu, Otomo Yoshihide, Jim O` Rourke and Norwegian hard-core-combo Cato Salsa Experience
Frequent collaborator of Sonic Youth since 2000, recordings, concerts, festivals.
Silence projects with a.o. Guy Picciotto, Ikue Mori, Caspar Brötzmann, DJ Olive, Thurston Moore, Terrie Ex, Jim O'Rourke, Han Bennink, Tim Barnes, Massimo Zu, Paal Nilssen-Love, Dror Feiler, Johan Berthling, Yoshimi… different combinations with musicians and sound artists focusing on creative improvised noise and alternative rock-music.
Lives in a white old stone house outside Gärsnäs, Scania, Sweden.
Essential & Selective Discography (complete discography includes over 140 titles)
**Mats Gustafsson/Paul Lovens; Nothing To Read – Blue Tower BTCD03, 1990
**Mats Gustafsson/Barry Guy/Paul Lovens; Mouth eating trees and related activities –
OKKA Disk OD12010,1992
**Mats Gustafsson; Impropositions – Phono Suecia PSCD 99,1997
**Peter Brötzmann Chicago Tentet; 1,2,3 – OKKA Disk12022, 1997
**GUSH; Live in Tampere – Dragon DRCD 327,1996
**Günter Christmann/Mats Gustafsson; one to (two)-OKKA ODL 10002,1997
**Mats Gustafsson; Hidros One- Caprice CAP 21566,1999
**Mats Gustafsson; Windows: the music of Steve Lacy - Blue Chopsticks BC4, 1999
**Mats Gustafsson/Jim O´Rourke; Xylophonen Virtuosen - Incus CD38, 1999
**Mats Gustafsson/Ingebrigt Håker Flaten/Paal Nilssen-Love; The Thing - Crazy Wisdom 001, 2000
**AALY Trio with Ken Vandermark; I Wonder if I was Screaming - Crazy Wisdom 003, 2000
**Diskaholics anonymous trio - Crazy Wisdom 005, 2000
**Paal Nilssen-Love/ Mats Gustafsson; I love it when you snore - Smalltown STS063CD, 2002
**Mats Gustafsson; Trees and Truths - Olof Bright OBEP 6-8, 2002
**Mats Gustafsson w. SonicYouth and friends; Hidros 3 - Smalltown STS080, 2004
**The Thing; Garage - Smalltown STS078, 2004
**Cato Salsa Experience and The Thing with Joe McPhee; Sounds like a sandwich – Smalltown Superjazzz stsj103cd
**Mats Gustafsson; Slide – Firework FER 1054, 2005
**The Thing; Action Jazz – Smalltown STS, 2006
**SONORE; only the devil has no dreams – jazzwerkstatt 013, 2007
**Brötzmann/Gustafsson/Nilssen-Love; The Fat is Gone – Smalltown STSJ 138, 2007
**Boots Brown – Boots Brown – Slottet, SLM7, 2007
**The Thing & Ken Vandermark; Hide out – Smalltown STSJ105, 2007
**Mats Gustafsson; Its all about – Tyyfus 5 LP, 2007
**Guy / Gustafsson/ Strid; Tarfala – Maya MCD 0801, 2008
**The Thing; Now and Forever 3CD Box + DVD w Thurston Moore – Smalltown STSJ106, 2008
**Sonic Youth med Mats Gustafsson og Merzbow; Andre sider f Sonic Youth – SYR 8, 2008
**Mats Gustafsson; Mats G plays Duke E – Qbico, 2008
also represented on; Load Records, Doubt Music, hatOLOGY, LEO, BEAD, Wobbly Rail, Xeric, Kontrans, Drag City, X-OR, Radium, LJ, Spool, Random Acoustics, Dilettante, Universal, psi/emanem, Ideal, Table of the Elements………..
for Mats Gustafsson discography and biography check;
www.shef.ac.uk/misc/rec/ps/efi/mgustafs.html
http://www.restructures.net/Gustafsson/Mats_disco_home.htm
Photos;
www.smalltownsupersound.com/press
Booking; New Thing / Improvised Music & dance
hessling-newthing@t-online.de
0049-521-4178852