MEETUP Berlin - A Thousand Tones Vol II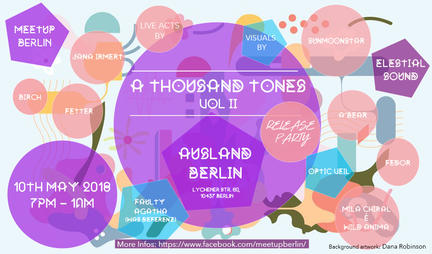 release concert
with:
Sunmoonstar
A'Bear
FEDOR
Fetter
Birch
Jana Irmert
Wild Anima & Mila Chiral (all live)
VJing by Optic Veil and Faulty Agatha by Was Deferenz
A Thousand Tones is a compilation featuring new music by women-identified, non-binary, trans feminine, trans and cis women composers of all ages from around the world. A Thousand Tones is about perspective, composition and intersectionality within underground and DIY music culture. Meetup Berlin hosts some ot the artists and the curator of the compilation Natasha Home (Sunmoonstar) to present the compilation and the label behind: Elestial Sound, an artist cooperative, based in Florida (USA).
MEETUP Berlin addresses female-identifying, non-binary and inter* artists including the LBTQ community, in the fields of music and arts in Berlin and provides an opportunity to meet likeminded individuals for collaborating on projects and share ideas.----
More Infos: https://www.facebook.com/meetupberlin