MENSCH MENSCH MENSCH // STINE JANVIN MOTLAND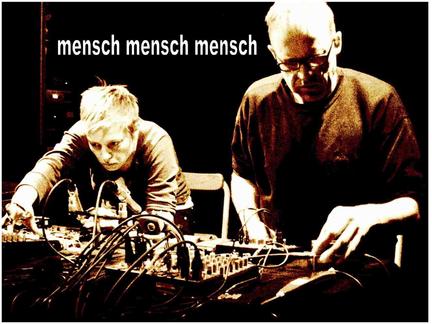 -Triple Record Release night-
Mensch Mensch Mensch
(Liz Allbee & Burkhard Beins - synthesizers, live-electronics & light)
present their fresh 12" vinyl LP - out on alt.vinyl, UK
Stine Janvin Motland
(solo voice & electronic devices)
presents her new albums "Ok, Wow" (out on +3dB Records, Norway) and "In Labour" (out on Pica Disk)
Doors 21:00, concerts 21:30.
In their duo Mensch Mensch Mensch, Multi-ist Liz Allbee and echtzeit-er Burkhard Beins team up for some live-electro-acoustic explorations. Informed by their connatural musical backgrounds ranging from industrial/noise via musique concrète to free improvisation the two players create interactive fields of an imaginarchic nature. Listen
Stine Janvin Motland Stine Janvin Motland (NO) is a performer and composer from Stavanger, Norway. Working with extended vocal techniques, she explores and pushes the frontiers of the natural acoustic of the voice. She has become a central figure in the Norwegian scene of experimental music, performing solo and with the groups Kitchen Orchestra and Song Circus. In addition to projects with composers such as Maja Ratkje, Øyvind Torvund, Therese Birkelund Ulvo, Ruben Sverre Gjertsen and Mats Gustafsson, she improvises regularly with musicians like C Spencer Yeh and Lasse Marhaug. Stine also collaborates with visual artists Cecilie Bjørgås Jordheim, Melissa Dubbin and Aaron Davidsson, choreographer Ula Sickle and theater director Hildur Kristinnsdottir. As a creator her main focus is her solo work, in addition to her performance/theater group Brigitte & Paula band. In 2014 Stine releases two solo albums; «Ok, wow» (+3db) and «In Labour» (Pica Disk).
[Über "OK, Wow" - von Peter Gebert] Nach zwei Jahren Funkstille meldet sich mit +3dB Records ein einzigartiges Plattenlabel aus Bergen in Norwegen zurück, das dort heimische Künstler auf einer spannungsgeladenen Plattform zwischen Neuer Musik, Improvisation, Noise und Aktionskunst zusammenführt. Ein Grund zum Feiern. Noch einer: Die gesonderte Label-Reihe für Solo-Performer wird fortgesetzt von der Vokalistin Stine Janvin Motland. Diese gab parallel zu »Ok, wow« gerade ihr Solodebüt auf Lasse Marhaugs Label Pica Disc, und wartete dort mit einer unerhörten Verbindung von Stimmkunst und Field Recordings auf. »OK, wow« liefert nach, dass Stine Janvin Motland nicht vom Himmel gefallen ist. Hier lassen ihre Improvisationen Traditionslinien aufscheinen, von Meredith Monk (deren Name hier ein Stück trägt, das mittels Jodeltechnik zu beinahe elektronisch klingenden Sounds führt) über ihre Landsfrau Maja Ratkje (eine der vielen, mit denen sie in zahlreichen Musik- und Theaterprojekten aktiv war und ist) bis zurück zum Post-Dada-Expressionismus eines Jaap Blonk in den beiden rahmenden Stücken, wo sie noch am Ende einen Rohrspatz auspackt, bei dem man feuchte Augen kriegt. Dabei bleibt sie immer sehr nahe an ihrem Instrument, lotet es bis ins Fraktale aus: »Kroken« ist eine Tour de Force aus pulsierenden Untertönen, Girren, Röcheln, die in der Akustik der Bergener Holzkirche aufblühen; in »Fanfare på ferde« spannt sie gar Stille zum Zerreißen an, ein Moment, an dem auch das Kreatürliche der Stimme besonders rührt. Vor allem aber beweist sie immer wieder, dass man Stimme wirklich aufbrechen kann und dies ganz unerwartete Farben zum Vorschein bringt. Das ist anstrengend, zuweilen auch beim Hören, aber von einer bizarren Schönheit, die man so nirgendwo sonst findet.
review about "In Labour" @ attn:magazine