Michelle Yom
Submitted by
Melodie
on Mon, 2013-02-18 11:11.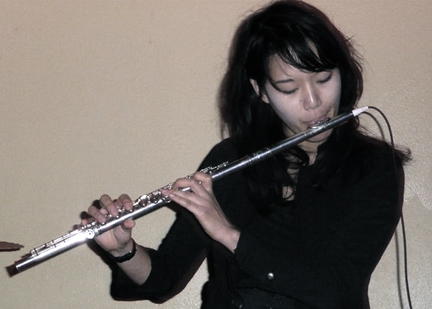 Michelle Yom is a flutist and composer known for her innovative
technique, unique vocabulary, and penchant for improvising. She is
dedicated to expanding the range of musical expression through
extended technique, improvisation, and electro-acoustic sound
environment. She received an M.A. in music from New York University in
2006 and has been creating experimental music since.
In 2009, Doggebi, a drum/flute improv duo collaboration with SPIKE the
Percussionist led to the release of Penetralia of the Moment (Noiz
Temple Records), a full length album that depicts sections of Thomas
Pynchon's Gravity's Rainbow. In 2010, a residency with Labotanica led
to Back To Imagined Spaces, an installation that explores the
relationship between spirituality and human physiological perception.
What Is Now, an audience participatory video installation that
explores the malleable nature of human time perception, was exhibited
at The Foundry in 2010 Art Crawl. In 2012, she received a fellowship
from Houston Arts Alliance to create Falcor, a multi-media work fusing
sound with movement.
As a collaborative performer, Yom has performed in sound series Brave
New Waves, Binarium Productions, They Who Sound, Resonant Interval,
and Nameless Sound, as well as with CoRE Suspension Troop, Texas Dance
Improvisation Festival 2010, and Parallel Universe Art Exhibition
2011. She has also performed in Korea, Germany, France, Poland, Italy,
and has extensively toured Australia and New Zealand.