Midori Hirano/Islaja/Screening:Suzanne Ciani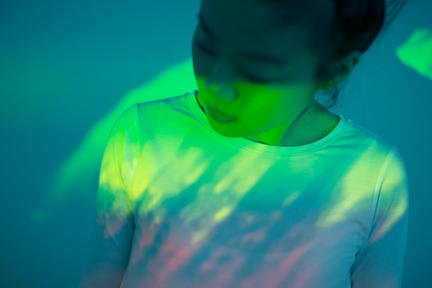 Heroines of Sound Editions presents

Live Performances: Midori Hirano, Islaja
Screening of "Suzanne Ciani"
(Film: Susanne Elgeti / Bettina Wackernagel)
On the occasion of the 3rd Heroines of Sound Festival 8-10 December at HAU, Heroines Editions presents female electronic music, film and discussions. A range of events dedicated to past and future artists related to the Heroines of Sound Festival.

https://www.facebook.com/HeroinesOfSound/
doors: 19:30
- 20:00: concert: Islaja
- Screening - MimiCof @ Heroines of Sound Festival 2015 (ca. 6 Minuten)
- concert: Midori Hirano (ca. 25 Minuten)
- Screening: Interview mit Suzanne Ciani (Länge: TBA)
entrance 8€
---
Midori Hirano, Japanese musician, composer and producer, born in Kyoto/Japan and now living in Berlin since 2008. She started to play the piano as a child, and this triggered what was to later see her study classical piano at university. Therefore her productions are based on the use of acoustic instruments such as piano, strings or guitars, but yet experimental and an eclectic mixture of modern digital sounds with subtle electronic processing and field recordings.
She released two albums on Japanese label Noble almost 10 years ago before she re-appeared with a tape on Staalplaat's cassette label in 2015 and has in September debuted her first album for Sonic Pieces, which is a beautiful set of electronic cues accompanied by mellow piano.
She is also known as MimiCof, her other solo project in which she focuses on more electronic and beat-oriented set. Under her MimiCof moniker, she has performed at Heroines of Sound Festival 2015 and at Perspectives Festival in 2013.
Islaja, singer-songwriter and musician from Helsinki/Finland is associated strongly to the D.I.Y. scene, and so represents a prime example of a female musician who has developed a singular musical and aesthetic expression. With her latest album S U U, appearing on Gudrun Gut's monika enterprise, her activities have shown a surprising change in style and sound.

Plus:
Screening of "Suzanne Ciani"
(Film: Susanne Elgeti / Bettina Wackernagel) on the occasion of CTM Prelude: Suzanne Ciani & Neonatrik @ Volksbühne, Berlin, 24.10.2014
Credits:
Heroines of Sound wird gefördert mit Mitteln des Regierenden Bürgermeisters von Berlin, Senatskanzlei Kulturelle Angelegenheiten, der Initiative Neue Musik Berlin e.V., Musicboard Berlin GmbH