Miman /// Alessandra Eramo: "Tracing South"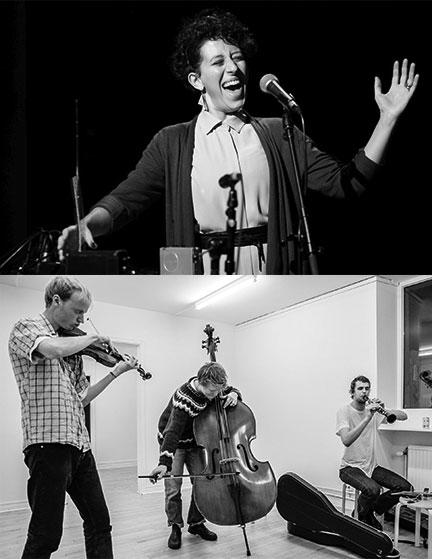 ALESSANDRA ERAMO live
performs "Tracing South"
- solo for voice and electronics | pre-release concert -
www.ezramo.com
soundcloud.com/ezramo
MIMAN live
Hans Kjorstad - violin
Andreas Røysum - clarinet
Egil Kalman - double Bass + modular synth
soundcloud.com/listentomiman
live in Graz: youtube.com
Doors 20:30, Concerts 21:00 | 8 EUR | @facebook
Miman is an improvising trio consisting of fiddler Hans Kjorstad, guitarist and clarinetist Andreas Røysum and bassist Egil Kalman; three of the most distinct and active young voices on the thriving Scandinavian improv scene. You might have heard them in collaboration with people like Tobias Delius, Tristan Honsinger, Axel Dörner, Elliott Sharp and Rhys Chatham, or in a plentitude of bands covering the spectrum from folk music to noise. As a trio their sound is shaped by their diverse backgrounds and influences; elements of Norwegian and Indian folk music tonality blends seamlessly with sentiments aching to free jazz and contemporary music in an organic fashion that steers clear of the dogmatic.The trio has toured all over Europe the last years, and on March 15th they will release their second LP "Stora Mängder Rymdgrus".
Alessandra Eramo performs, as pre-release concert, her new composition "Tracing South" which will be released in April 2019 as LP on Corvo Records. A sonic enchantment where polyphonic singing, repetition, dissonanceand overtones are pushing the listener out of the comfort zone.
Reflecting on the Mediterranean Sea as a human and spiritual dimension, but now also as a vast and silent migrant cemetery, Eramo's work oscillates between the caress of tender melodies and the brutal energy of noise eruptions.
Eramo, *1982, is a Berlin-based sound artist and vocalist. She works with performance and other media such as installation, video, text, drawing and intervention in the public space, exploring latent acoustic territories of the human voice and Noise as socio-political matter.
She has exhibited and performed widely at festivals and institutions and, alongside her solo work, collaborated with diverse composers, choreographers, artists and poets.
Kindly supported by Musikfonds. Promotion of Contemporary Music. German Ministry of
Culture and Media.