Monkey Plot + Thörn |Ian Douglas-Moore + Paul Roth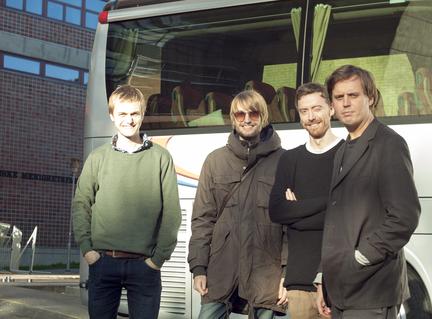 - animals acting human # 3 -
... an evolutionary concert night with:
MONKEY PLOT + PÄR THÖRN | quartet
Berlin premiere & tape release concert: "Osvensk Stämning" (Unswedish Atmosphere)
IAN DOUGLAS-MOORE & PAUL ROTH | duo
Ian Douglas-Moore: electric guitar
Paul Roth: saxophone
- Doors 21:00h, start 22:00h -
The Norwegian band Monkey Plot are
Christian Skår Winther - guitars
Magnus Skavhaug Nergaard - bass
Jan Martin Gismervik - drums
For five years, they've been exploring their sound and are constantly evolving through acoustic and electric improvised music. Their music breaks the barriers of genre definitions, but draws inspiration from different kinds of folk music, acoustic icons as Neil Young and Nick Drake, and the experimental noise, improvisation and jazz scene.
After first meeting during the All Ears-festival in Oslo in January 2015, Monkey Plot formed a new quartet together with Pär Thörn, a Swedish but berlin based live-electronic musician and poet whose soundworks move between reduced atmospheric sound scapes, chanting sound poetry and noise.
After their first concerts in Oslo and Stockholm in November, Monkey Plot + Pär Thörn go for a small tour in spring 2015. For the Berlin gig will the first tape by the constellation be released, "Osvensk Stämning" (Unswedish Atmosphere).
"Monkey Plot manages to find a remarkable balance between the experimental,
the melodic and lyrical, and manages also to mix these elements in an organic manner."
Eyal Hareuveni, AllAboutJazz.com
Concert excerpts of MONKEY PLOT + PÄR THÖRN on VIMEO and YOUTUBE
Websites MONKEY PLOT | PÄR THÖRN
------------------------------------------------------------------------------------------------------------
Ian Douglas-Moore & Paul Roth :: mediumloud noise music for saxophone/guitar.
Sonice adventures in the land of textural distortions, microtonal manipulations, meandering soundwalls, and other sound curiosities.
Ian and Paul met in 2012 while working for a summer camp 250 kilometers south of Berlin. Both originally from the US, Paul's curiosity was stirred when he learned - after some surprising post-child exhaustion converstaions at the campfire - that Ian was into some crazy strange abstract music. Not long after the two began work on their own duo collaboration.
The project now melds the unique approach of each's solo work on their respective instruments. Ian lays out sound walls using guitar-created sine tones, feedback, and a deliberate approach to sonic layering while Paul inlays his electronics-influenced work on alto saxophone, ducking in and out of the sound space with microtonal manipulations, multiphonics, drones, and other noise gestures - sometimes to reinforce the overall texture, other times to destroy it.
The result is a continuous sound field that seems to evolve slowly but at the same time constantly reworks itself through subtle hints, turns, and premonitions from two sound artists rather keen on manipulating sonic space.
Listen in on soundcloud or Vimeo:
http://soundcloud.com/paulnroth/pnr-ian-douglas-moore
http://vimeo.com/91878167