Nicolas Collins / Liz Allbee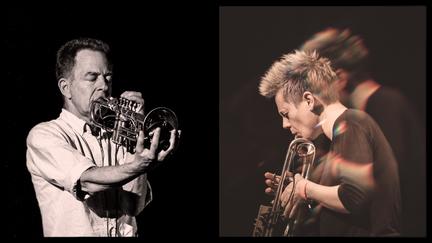 2 solo sets + 1 duo set by

Nicolas Collins - Trumpet, Electronics (quadrophonic)
nicolascollins.com | youtube.com

Liz Allbee - Trumpet, Electronics (quadrophonic)
lizallbee.net | youtube.com
Doors 20:00, concerts 21:00 | 8 € | @facebook

Nicolas Collins, New York born and raised, Nicolas Collins spent most of the 1990s in Europe, where he was Visiting Artistic Director of Stichting STEIM (Amsterdam), and a DAAD composer-in-residence in Berlin. He has been a Professor in the Department of Sound at the School of the Art Institute of Chicago since 1999, and a Research Fellow at the Orpheus Institute (Ghent) since 2016. From 1997 - 2017 he was Editor-in-Chief of the Leonardo Music Journal. An early adopter of microcomputers for live performance, Collins also makes use of homemade electronic circuitry and conventional acoustic instruments. His book, Handmade Electronic Music – The Art of Hardware Hacking (Routledge), has influenced emerging electronic music worldwide.
Liz Allbee (b. 1976) is a composer/performer residing in Berlin, Germany. She performs most often on trumpet, self-designed quadraphonic trumpet, electronics, and voice. Her work encompasses improvisation, electro-acoustic composition, and instrument creation, often focusing on issues of embodiment and extension.
She performs regularly in Europe and the U.S. and has appeared at such festivals and venues as Maerzmusik, Donaueschinger Musiktage, and Darmstadt (Germany), San Francisco Electronic Music Festival (US), Huddersfield (UK), Wien Modern, (Austria) among others. She is the recipient of funding and grants from Initative Neue Musik, Musikfonds, Berlin Senat, the European Network for Contemporary Audiovisual Creation, and Berlin Arbeitsstipendium and has been Artist-in-Residence at Kunstmeile Krems, Austria, Avatar- Quebec, Q-02 in Brussels, and STEIM in Amsterdam. Allbee completed her M.A. in Music Composition at Wesleyan University in 2013.
Besides solo work, main projects and collaborators include the Splitter Orchester, Pareidolia (w/Marta Zapparoli), Ganzfeld (w/Sukandar Kartadinata), The Elks (Fagaschinski, Roisz, Zapparoli), and The Liz (Liz Kosack and Korhan [Liz] Erel).
Liz Allbee's photo: André Syman
Nicolas Collins' photo: Cindy Voitus