Nina de Heney
Submitted by
Mathias
on Fri, 2018-04-27 11:33.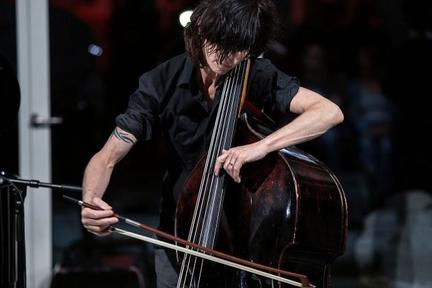 Nina de Heney, bass, grew up in Switzerland. She studied with Miroslav Vitous at the New England Conservatory of Music in Boston from 1981 to 1983. She moved to Sweden in 1983, where she again studied from 1988 to 1993 at the Göteborg Conservatory of Music, where she also achieved a Soloist Diploma 2004 to 2006.
She started doing solo performances in 1992, often working with dancers and in 2008 she founded the festival Dance 'n' Bass alongside dancer and choreographer Anna Westberg. Her three solo albums Archipelago, 2 and Three have all been met with critical acclaim and she has, on several occasions, been nominated for the Swedish Jazz Celebration and received the 2012 Jazz Musician of the Year Award. In addition to this she has been awarded funds from the Swedish Arts Grant on several occasions. Nina has been working in the jazz and improvisation scene in Sweden for many years with a number of groups and is currently working with Lisa Ullén.
https://www.youtube.com/watch?v=uSI3HrOh3kw
https://www.youtube.com/watch?v=XMKjlSohe-s&list=PLiB70b2bVT49g3MBlHyBBT...