Niños Consentidos Barcelona/Berlin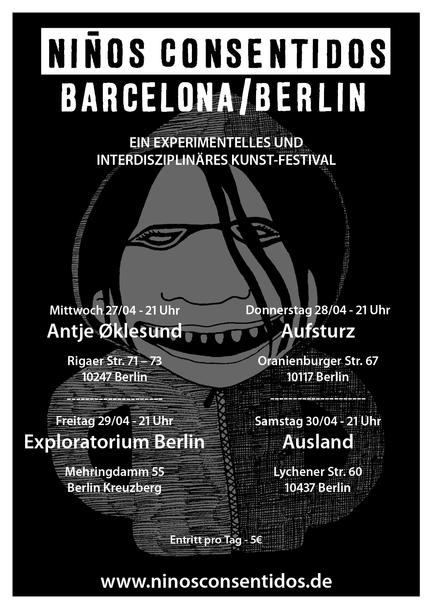 Niños Consentidos (verwöhnte Kinder) has been held continuously in Buenos Aires, Argentina, since 2006, and in Barcelona since June 2010. From the very beginning the festival was intended as an open space for artists of any discipline with pieces to show and/or ideas to develop, with its starting point nestled in a context of experimentation and improvisation from which it then broadens and opens out.
Nils Ostendorf, trumpet
Chris Heeenan, alto saxophone & contrabass clarinet
&
Sam Nacht - trombone, sax, electronics
Leo Bettinelli - contraptions
Although Leo Bettinelli and Sam Nacht may have met while studying electro-acoustic composition in Argentina, they trully grouped later on as improvisers and co-organisers of concerts in Buenos Aires. Their music has grown from a combination of electronic, acoustic and gadget-based instruments, tending towards grainy noise experiences, gradually overflowing into the realms of visual and performance media. From saxophone and oscillators, to voice and video.
Niños Consentidos Barcelona/Berlin will be held at the following locations:
27.4. 21:00 Antje Ølesund
28.4. 21:00 Aufsturz
29.4. 21:00 Exploratorium
please check their sites for program details