FAUN FABLES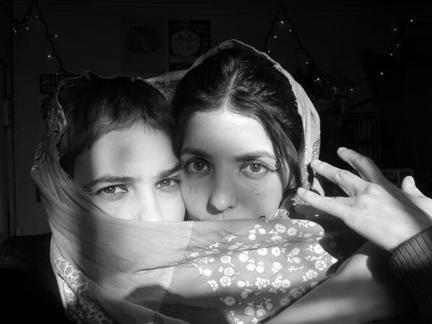 Drag City act FAUN FABLES is coming to Berlin...with
songs that
carry the wonder and terror of the natural world. Plus a jig or two.
Dawn McCarthy is equally compelling whether expressing childlike wonder
(Joshua) spiritual frenzy (Higher) or eccentric sexual playfulness
(Eternal), and is perhaps as much an actress as a musician.
FAUN FABLES began in 1997 when she
left the bands and cabarets of New York City, traveling and singing
solo in Europe. The first Faun Fables album was recorded out of this in
1998, called EARLY SONG. MOTHER TWILIGHT (2001), a map of songs
for the underworld, was pedaled to several folks along the interstates
and country roads of North America 2001-20 03, gathering the attention
of Drag City Records. FAMILY ALBUM (Drag City debut, 2004) swings
between the dulcet nostalgia of a child's song and the wild desperation
of a pack of wolves. When not performing solo, Dawn is joined by Nils
Frykdahl, or various friends and family members. This upcoming run of
shows in the UK and Europe will feature her sister Sheila McCarthy, a
percussionist featured on FAMILY ALBUM.