BULBUL + w.fuchs + don vito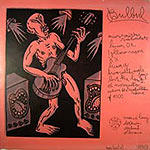 Bulbul

bulbul aus wien spielen
geradlienigen rock für die hüfte. manchmal druckvoll, und manchmal fast
schon ambient, aber immer melancholisch. sie erinnern an... les hommes qui wear espandrillos, aber wer zum geier kennt die espandrillos? Hier schreibt einer "I had never heard of Bulbul until very recently when I read they were being compared to The Melvins". ein ehrenhafter, aber hinkender vergleich. daher der versuch einer groben einordnung: aeh... noiserock / indie(metal)rock - best metal-impro group of east-europe.
derhunt: bassist and gardener,
ddkern: drummer and mechanic,
manfredl engelmayr: singer and hen,
ollmann: sounddedective and phasenjohnny
wolfgang fuchs:::::::
---
lebt und arbeitet in wien
---
seit etwa 6 jahren arbeit an der integration von
tonträger-wiedergabesystemen -
mit hauptfokus schallplattenspieler - in moderne aufführungspraktiken
im bereich der live-improvisation.
im zuge dessen verlagert sich die aufmerksamkeit von den instrumenten
an sich hin zum medienverbund schallplattenspieler-mischpult.
hauptaugenmerk liegt bei
der entmystifizierung des funktionalen djs und der neudefinition seiner
rolle in aktueller musik.
'im ausland werde ich dem werten publikum und meiner lieblings-rockband
ein turntable-solo mit ausschliesslich von ihr eingespielten
schallplatten servieren. mehr kann ich als fan im moment nicht tun...'
---
projekte
das fax mattinger - gerald rossbacher/wolfgang fuchs/alexander wallner
didi bruckmayr/wolfgang fuchs-duo
wolfgang fuchs solo
wch band - decker/fuchs/herbst/merzinger/zogholy/zogholy
aerom - markus decker/wolfgang fuchs
---
weitere kooperationen u.a. mit:
noël akchote, dean roberts, michael northam, didi bruckmayr
dieb13, robert piotrowicz, anna zaradny, arnold 'noid' haberl, oliver
stotz klaus filip, nishide takehiro, mattin, hannes raffaseder
---
auftritte und workshops in at, de, pl, sk, hr, uk, nl
+++++++++++++++++++++++++++
------don vito-------
instrumental noise rock trio aus leipzig (2 xy, 1 xx).
Kurz-Impression und vier Songs in mp3-Form: http://www.stompbox.de/donvito/