unkl CD release / DJ Looping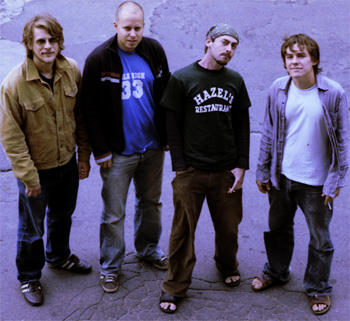 UNKL ist ein Modern Jazz Quartett
aus Berlin. Auf der Suche nach rumpelnden Takten und spontanen
Abzweigungen finden sie
immer wieder zurück zum Song. Sie wurden 1997 als sextett gegründet,
veröffentlichten 2001 ihre erste CD und touren immer wieder über den
Erdball - u.a. als Sparringspartner etwa vom Sun Ra Arkestra, von
Ken
Vandermark oder von Charlie Hunter.
Vor einem Jahr spielten sie ein dufte Konzert im ausland. Heute
freuen wir uns nicht nur weil sie uns wieder beehren, sondern wir
freuen uns auch über den Anlass: heute ist ihr CD Release Konzert!
Josh Yellon - Saxophone
Kalle Kalima - Guitar
Gary Hoopengardner - Bass
Sebastian Merk - Drums
All About Jazz.com schreibt über UNKL:
...
At certain times you can detect the sort of repetitive, interlaced
rhythms that probably came out of West African trance music and flowed
through the filter of Ornette Coleman's Prime Time units and Steve
Coleman's Five Elements. "South Goes" has this sort of energy, fueled
by Kalle Kalima's off-kilter guitar vamps locked in with the rhythm
section. Saxophonist (and co-composer) Josh Yellon rides roughshod up
top, also bringing back to mind the aforementioned saxophonists'
occasionally anarchistic efforts. Again, there's a strong hint of
order, but it serves more as a counterpoint for musical interaction and
melodic invention. ...The closer strays very close to the border of
free jazz, but never really crosses the line.
DJ Looping
loopt vinyl loops: er spielt ausschliesslich Schallplatten mit Endlosrillen, die sich
ständig wiederholen... sich sTÄNdig wiederholen... sich stäNDIG
wiederholen. Es kann rhythmisch werden, oder auch rumpeln.