Degenerate Art Ensemble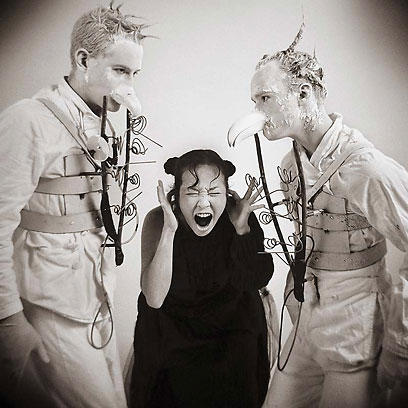 Degenerate Art Ensemble (Seattle, USA):
+ SPEZIAL DJ SET Jan Zimmermann (WOB): DoepferA100, selbstgeritzes Vinyl, Plattenspieler, Tonarme und DJ RIUKI (WOB) www.vinylizer.de
intense and fragile
listen here :
Ranging from sweet-and-lovely to
head-banging-powerhouse-rollercoaster
Music that has been proven to cure rare diseases and
inspire the downtrodden
Featuring:
Haruko Nishimura on vocals, accordion and brass kazoo
Joshua Kohl on percussion, the newly built
panthrastic cello/harp II, vocals and guitar
Josh Stewart on trumpet, marimba, spike, vocals and
the cuckoo air powered piano organ
Jherek Bischoff on acoustic and electric bass, vocals,
drums and casio
This tour is supported by Arts International (New
York)

This space age 4tet has built many of these
instruments - in some cases merging their very flesh
with the woods and metals - such is the case of bionic
trumpet
super-power Josh Stewart - having built a marimba, his
limbs are now made of resonant wooden keys, and he
carries the new name Marimba Jairimba.
Jherek(the Sun Ra of Casio) plays an instrument that
is only 1/20th the size of his body!!!! His heart
wrenching bass playing has been known to break
metal goblets cleanly in half when no one is looking.
Joshua's Panthrastic Harp Zither has been broken
numerous times by the evil forces which are trying to
prevent him from virtually taking over the world with
his magical sounds.
Haruko will bedazzle you with her finger bending eye
brow scalding vocal utterences and turbulent movement
- sending your very soul into the far reaches of our
solar system.
DEGENERATE ART ENSEMBLE...
www.degenerateartensemble.com
DAE is a laboratory of sound and vision. Formed in
1993 as a performance company and music ensemble, the group has performed over 500 shows in 10 countries
(Germany, France, Italy, Poland, Slovakia, the Czech
Republic, Slovenia, the Netherlands, the U.S. and
Canada) and explored such a variety of formats as
music, dance, theater, film scoring, recording,
sculpture, painting and performance art. One of the
expressed goals of the group is to "explode the
boundaries of art", and explode them it has,
constantly seeking to challenge and renew itself and
its audience to create a never-before felt experience
at each performance.
This extremely versatile group includes
dancer/choreographer Haruko Nishimura, drawing from
Butoh and European theatre traditions to create
"breathtakingly powerful images using the sparest
movement style" (Seattle P-I), and a troupe of
extraordinarily gifted musicians and composers working
together to make sure the "lines between classical,
jazz, world music and hard rock aesthetics are
obliterated in the eloquently executed, high-energy
repertoire." (San Francisco Weekly)