The Emergence of Boundary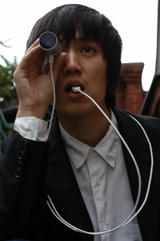 The Emergence of Boundary

Shintaro IMAI, composer and sound artist, was born in Nagano, Japan. As
well as to compose pieces for instruments, he is developing a real-time
algorithmic sound generating system by means of extended granular
sampling technique, under his idiom "Sound Creature". Figuratively
speaking his music is organization of microscopic movements of noise in
natural sounds. He studied composition and computer music in Tokyo and
at the Ircam in Paris, and then worked at the ZKM Karlsruhe as a guest
composer supported by the Japanese Government. In the year of 2004 he
was a guest composer of the DAAD Artists in Berlin Programme.
http://homepage.mac.com/shintaro_imai/
Mayumi FUKUZAKI
Born in Hakodate, Japan. She took part as an actress in an avant-garde
theater which consists of women only, at its start in 1993. In 1996 she
took part in the Butoh group "DAIRAKUDAKAN" where she met Ken-ichiro
Hoshino, the leader of the Butoh orchestra "DAIZUKO- FARM", and then
she started to dance on the street. She performed at almost of all
pieces by "DAIZUKO-FARM " until 2002. Since 1997 she joins the
free-jazz orchestra "SHIBUSASHIRAZU" as a Butoh dancer.