Fernwärme#16: directory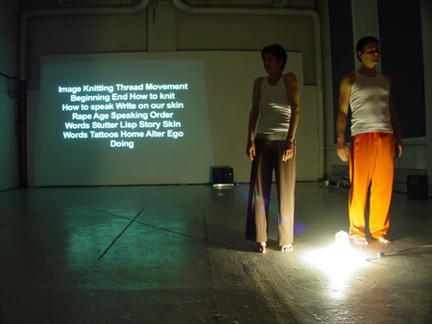 deufert +plischke: directory - europe endless
a visual-audioplay with occasional movements
Voices: Kaethe Fine (USA) and Martin Hargreaves (GB)
deufert + plischke share work and life as an artist-twin. One year
after the start of their incest in 2001 they were asked to prepare a
lecture on their work for a dance festival. Due to the fact that their
work is a process where the boundaries in-between work and life are
blurred it was not possible to prepare a lecture "about" or "on" their
work but rather to create a "work with work". "Directory - europe
endless" is the first of their directories. It talks about the time
before the artist- twin got together, about the possibilities to share
the same protocol, to live an incestuous relationship, the risks
embedded in work and life. The viewer is invited to dive into a process
of various media (super 8, video, photography, movement, off
voice) in order to take a close look "behind the scenes" of how the
artist-twin knits work and life.
"We stood infront of our memories like they were glasses of our
grandmothers' preserves. An enormous number of glasses, waiting to be
opened during a long and harsh winter. When we opened them we
discovered that some of them had gone bad: memories of hurt, desire,
pardon, despair, promise, self conflict without solution. There is a
sense of beauty in the disorder of what has gone mouldy. The mess of
the mould resembles the chaos of melancholy. In our fiction it can even
turn into a planet, a body, a plant. What was in the glasses are
reminders of stories that make up our lives. They become dead objects
in our private museum: show and tell our life as a geneology of the
dead." (deufert + plischke: directory)
with quotations of:
Antonin Artaud, Bader Meinhof Group, B.D.C., John Cage, DPK, Gilles
Deleuze, Federico Fellini, Forced Entertainment, Kraftwerk, Julia
Kristeva, Ghérasim Luca, Vladimir Malevič.
deufert + plischkeartist twinsartistic direction frankfurter küche leipzigwww.frankfurterkueche.org