puschen: Akron/Family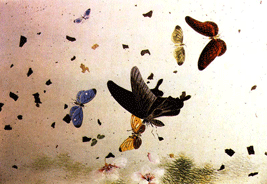 Akron/Family (Brooklyn, Young God Records)

Akron/Family are four extremely nice, sincere and well-mannered young men from rural America who came to NYC (in 2002) to make music, hoping to find a thread of real magic still winding through this city's music scene.
The music veeres from gentle American country folk to unabashed electronic noise to gathering and erupting crescendos, to extended skronk improvisations that then suddenly cuts to an LSD version of a backwoods barbershop quartet or a Louvin Brothers spiritual – sometimes all within the course of one ridiculously long "song" ...
Das Label von Akron/Family ist übrigends Young God Records, das Label von Michael Gira (Swans). Ausserdem sind sie die Backing-Band von Michael Gira's neuem Projekt ANGELS OF LIGHT.
+ Goldmund-DJs Holger und Falko Teichmann
mehr wissen:
www.puschen.net
Eintritt 7 Euro
 "Akron/Family is my favorite "Rock Band" in the universe (or "rock-related band" - something like that!). I watched every show they did from beginning to end for about 40 concerts and was consistently amazed. The audience responses - for a then almost completely unknown band - were astounding. They tear down the roof. They generate such pure JOY, coupled with a wild sense of constant invention, that it's impossible not to get sucked into their weird world of sonic chaos, then gorgeous vocal harmonies, then march-of-the-crazed-clowns with ever-escalating psychedelic mantra crescendos, then country stomps, then genuinely touching plaintive, atmospheric songs, then extended improvisations, then into some kind of Beatles meets Beefheart backwoods midnight incantation ("Raising The Sparks" - a song that never fails to get the audience whooping like suddenly zapped and enlightened idiots) - and on and on. A friend of mine saw them and, struggling to find a way to describe them, said that they contain the entire history of rock music, sometimes in a single song. Ha ha! Preposterous, but sort of accurate. So, their songs on this album, coming right off a lengthy tour in which they also played a set of my songs every night as Angels of Light, just leap out of the speakers, in my opinion. I don't think I've ever seen a band in the 25 years that I've been personally making "rock" music contain the elements of exuberant experimentation, flat out intense, ecstatic and focused performance, and immediate accessibility that they possess...."
(Michael Gira, Swans / Young God Records)